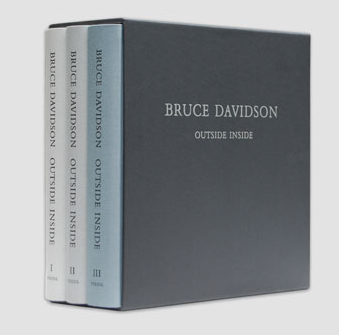 © Steidl, Avril 2010
Outside Inside - Journey of Consciousness is a gorgeous three-volume box set of 800 photographs drawn from this master photographer's immense archive of negatives, housed in a room of his Manhattan apartment. Chosen by Davidson himself, the selection spans a 60-year career, and features such seminal bodies of work as Circus (1958), Brooklyn Gang (1959), East 100th Street (1966-1968), The Civil Rights Movement (1961-1965), Subway (1980) and Central Park(1992-1995), as well as his two most recent works in progress - a series of urban landscapes made in Paris (2007) and Los Angeles (2009) - and many unpublished photographs. The pages in these volumes document Davidson's passionate and progressive vision, a vision that bears witness to several decades of volatile change in twentieth-century America. Each chapter is introduced by a short text written by Davidson himself. The result is a celebration of the development of a master of the medium and an autobiography, a photographer's life seen through his work.

Please note this book weighs 10 Kg once packed for posting
Veuillez noter que ce livre pèse 10 kilos une fois emballé pour l'envoi.
Book design by Bruce Davidson and Gerhard Steidl
Tritone printing throughout
Three hardcover books housed in a slipcase
Volume I, 1954 - 1961, 300 pages, 264 photographs
Volume II, 1961 - 1966, 272 pages, 228 photographs
Volume III, 1966 - 2009, 372 pages, 342 photographs
944 pages, 834 tritone plates
23 cm x 30 cm
EC €125.00