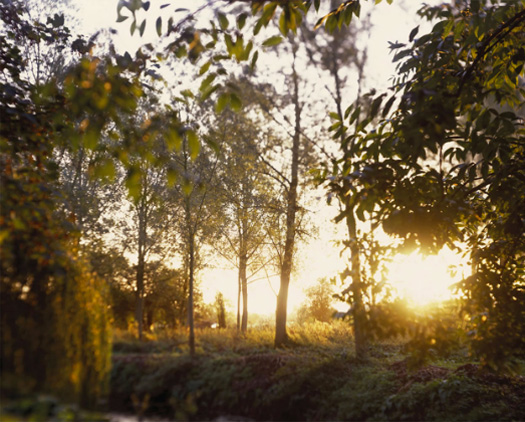 Expositions du 12/3/2010 au 24/4/2010 Terminé
Atlas Gallery 49, Dorset Street W1U 7NF London Royaume-Uni "The river, a timeless symbol of the journey that we take through life.
Trees, metaphors for a window on the human condition, life; growth; decay; collapse.."
(Steve Macleod, 2009)

Atlas Gallery is pleased to present Scottish photographer Steve Macleod's debut exhibition 'Blackwater'. Stunning, large-format colour prints depict the landscape surrounding the river Blackwater through seasonal changes and shifting light. Dark, ominous woodlands with deep shadows contrast with lush landscapes bathed in radiating light. Macleod uses the landscape as a vehicle to describe his state of mind, reflecting the extreme highs and lows he experiences. Taking inspiration from a long tradition of landscape photography, Macleod interprets the medium in a new, fresh way. The technically perfect prints are not only unique in their aesthetic but also rare in their production. The entire process from camera to finished print is controlled and mastered by the photographer.

By methodically visiting the same sites along the river course, Macleod repetitively shoots the same subjects through the seasons in direct relation to the way he feels, translating his emotional state through the lens. Always waiting for just the right moment, shooting at dawn and dusk, until each object or detail of foliage is caught within its own atmosphere. A cathartic process, he uses the changes in light and atmosphere as a form of expression for his changing moods. During dark periods, he wades through a muddled mind, confused and frustrated. He finds solace in the landscape, engulfed in its sub-dawn greyness. Macleod's emotionally charged photographs of dark woodlands have a weight, sombre yet profoundly meditative. In stark contrast, the bleached out, ethereal images represent the artist's high, frenetic moods. During these moments, Macleod pushes the boundaries of his photography. Objects become unreadable, and we are forced to squint into the glare. Lacy structures of trees are lost in a diaphanous milky haze.

Macleod has worked as a professional printer since the early 1990s with some of the world's leading photographers such as David Bailey and Mario Testino, collaborating and consulting beyond what is normally required. He has gained an international reputation in this area and published several books on the subject. This knowledge and experience is evident in his photographs, which are technically flawless. Working in a traditional way, he uses a weighty 5x4 Field camera and controls colour temperature and effects wholly within the camera, rather than through Photoshop. He uses early 1950s lenses, which are uncoated and lead to small aberrations, creating a softness in the image with elements of flare. He takes advantage of all the movements in the camera such as back-plate shift and lens tilt to abstract the composition, creating ambiguities of scale. Maintaining a narrow depth of field, elements of the foreground are often as sharp as the background. Large areas of the composition are blurred producing a sense of movement and an experience more akin to human memory and visual experience. In contrast, sections are captured in prosaic detail enticing the viewer into the depths of the image through the surrounding mist.

There are no signs of human presence in Macleod's landscapes, only adding to their dream-like state, summed up best in 'The Island of the Fay'. An ethereal image bathed in a deep purple light and velvet tones, its title taken from a story by Edgar Allen Poe about a fictional island paradise. This island can never be reached, the harder you search, the further away it becomes. True of the image itself that seems more impossibly beautiful, the longer you stare. Macleod's sublime images are a platform for contemplation. He remains true to his own inner visions and his desire to portray a world that was created from within himself.