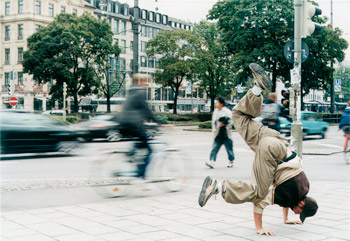 Expositions du 18/2/2010 au 14/3/2010 Terminé
A Foundation London Rochelle School, Arnold Circus E27ES London
A Foundation is the London focus of a touring exhibition to Istanbul, London and Berlin 2009/10. Inspired by the celebrated Turkish writer and political figure Nazim Hikmet's book of poems Journeys With No Return, this project explores reflections of Turkish migration on contemporary art.

Twelve artists from Germany, Great Britain and Turkey uncover themes around Turkish migration over the last 50 years in works that are new to UK audiences – six of which are unveiled for the first time. The artists balance the local with the global, their subjective sense of identity with cultural dissemination that potentially knows no borders. Using popular music, rap, cinematic conventions, anthropology and documentary they exploit archive images, cultural stereotypes and information systems. The artworks stretch from video, film, photography, drawing to installation and reach out with methods of communication that echo mainstream and popular cultural forms.

Zineb Sedira finds resonances of transportation in forgotten railway sidings, while Clemens von Wedemeyer has created a cinematic work that is as much a tribute to his modernist masters - Mayakovsky, Tarkovsky - as it is a film about crossing a border. Melanie Manchot takes a traditional European painting genre, the double portrait, and restores connections between people separated by migration. Adam Chodzko has created a surreal documentary about Romanian migrant strawberry pickers editing a historical archive of London hop pickers, subverting readings of power relations, identity, time and place. Nasan Tur's demonstration backpacks consist of a range of unusual objects and reference both mobility and rebellion. Asli Sungu uncovers historical layers that unexpectedly explode with poetic equivalences that only an outsider could create.