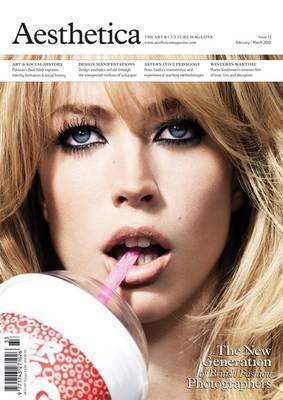 Exploring the creative zeitgeist, Aesthetica editorial is engaging and offers new perspectives on contemporary arts, looking at the arts in relation to the social, political and economic.

Issue 33 engages with current debate and looks how the boundaries in arts and design are forever changing. Much of this issue is about ingenuity, innovation and pushing the artistic boundaries – how far and precisely where can they go? Presenting a survey of these ideas, this issue drives the debate forward. In art, opening at Liberty is OH! YOU PRETTY THING, which showcases the new generation of British fashion photographers and explores the ideas behind their work. We're also looking at artists' wallpaper and defining our interior spaces with a new exhibition, Walls Are Talking, opening at the Whitworth Art Gallery in Manchester. Peter Kardia curates From Floor to Sky; a major exhibition on British sculpture and Bani Abidi opens her new work, Karachi Series, at Green Cardamom, exploring the personal narratives of identity.

In film, we have a chat with Martin Koolhoven about his new film Winter in Wartime, looking at love, loss and deception at the close of the Second World War and Part Two of our How to Be an Animator series with The Brothers McLeod. In addition to this, Kathryn Williams tells us about her new album and we take an in-depth look at Sound Art and its amorphous definitions. There's a preview of Danza Contemporanea de Cuba's world premiere at eight venues this winter and, to conclude, a discussion with Ireland's rising star, Paul Murray, about his new book, Skippy Dies. The issue also features an extract from Aifric Campbell's new book, The Loss Adjustor, and a Q&A with the director/producer, Simon Curtis.

With all the best exhibitions, productions, music and new releases of the coming months, Aesthetica Magazine celebrates innovation and ingenuity. This is an extremely exciting issue: open up, dive in and enjoy.