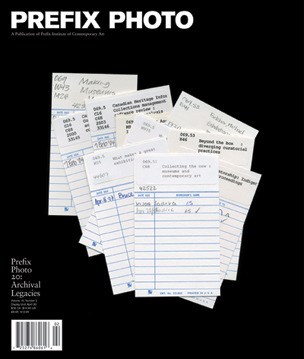 Prefix Institute of Contemporary Art is pleased to announce the release of the twentieth issue of Prefix Photo magazine. As the magazine embarks on its tenth-anniversary year, editor Scott McLeod addresses the theme of "archival legacies," as follows: "This issue directs our gaze toward the vast array of physical materials that are archived in order to preserve our multiple histories. The archive - and the uses to which the archive can be put - facilitate the envisioning and elaboration of these sometimes competing, sometimes complementary histories. In this way, history is not left to languish in the past, but becomes available to be recuperated and animated not only in, but as the present."

These thoughts resonate strongly with the works of the artists and writers represented within the magazine, as follows:

Monika Kin Gagnon expands on the notion of "posthumous collaboration," considering books and archives as material traces and triggers of memory, in an essay that is part homage, part letter to Gagnon's late friend, poet and curator Nancy Shaw.

Jacob Korczynski presents a reading of the Pride Records series by Houston-based artist Jamal Cyrus. Korczynski interprets the series through the lens of the "cut," as Cyrus slices through historical images via collage and through official histories via the rupture of fiction.

Jordan Troeller writes on the object-based photography of New York-based artist Zoe Leonard, responding to current discussions on digitalization and photography. She argues that far too much weight has been given to describing technology and far too little to examining its social and political effects.

Sudhatri Murthy, in her literary feature "Simple Time," reflects upon a snapshot that mediates her unique experience - intimately connected and yet outside - of mothering twin boys.

Other contributors include Barbara Balfour, Rose Bouthillier, Neil Cummings and Marysia Lewandowska, Kyla Mallett, Stephen G. Rhodes, Gabor Szilasi, and more.

*While quantities last. Offer expires January 31, 2010

Prefix Photo is published by Prefix Institute of Contemporary Art, a registered charitable organization that fosters the appreciation and understanding of contemporary photography, media and digital arts. Prefix Photo is available by subscription and in fine bookstores and newsstands in Canada, the United States, the United Kingdom, Portugal, Spain, Greece, Turkey, Singapore and China.

For their assistance with the release party held for issue 20 in Toronto, Prefix Institute of Contemporary Art gratefully acknowledges its Supporting Sponsor Steam Whistle Brewing and its Official Catering Sponsor à la Carte Kitchen.

Prefix Photo is published with the assistance of its staff, volunteers and patrons, as well as the Ontario Arts Council and the Canada Council for the Arts. Prefix Photo also acknowledges the financial support of the Government of Canada through the Canada Magazine Fund toward its editorial and production costs. The Ontario Arts Council is an agency of the Government of Ontario.