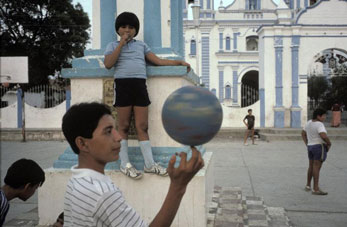 Alex Webb/Magnum Photos Alex Webb started his education in photography at the Carpenter Center for the Visual Arts at Harvard University, completing his academic degree with History studies at the same university. His professional career began as a reporter. For many years, he worked for prestigious magazines such as Life, Geo and New York Times Magazine, and in 1976 he joined the prestigious agency Magnum Photos as an associate member, becoming a full member in 1979. He was elected President of the agency this past summer.

The Council of Alcobendas has awarded a prize for Alex Webb's work, recognizing the highly humanistic and technical quality of his photographs, which show a "lyric and realistic" sense of childhood and an overall sense of being human. The winning photograph (on the left) is "Mexico. Oaxaca state. Tehuantepec. 1985. Children playing in a courtyard."

The Premio Internacional de Fotografia Alcobendas comes with 10.000 Euro, and the prizewinner must be a documentary photographer who illustrates the rights of childhood throughout his career. The work must encourage reflection on the different and fascinating questions that characterize the global situation of children.

The jury was composed by Lola Garrido, collector and independent curator; Pepe Font de Mora, director of the Foundation Foto Colectania; Carlos Perz Siquier, photographer, Natinal Prize of Photography 2003; Jose Maria Diaz-Maroto, photographer and curator of the Alcobendas's Collection; and Eva Tomo, Culture and Childhood City Councilor of Alcobendas.

Alex Webb will receive the prize on November, 19th, 2009 at 7pm in the Cultural Center Pablo Iglesias, from the Major of Alcobendas, Ignacio Garcia de Vinuesa.