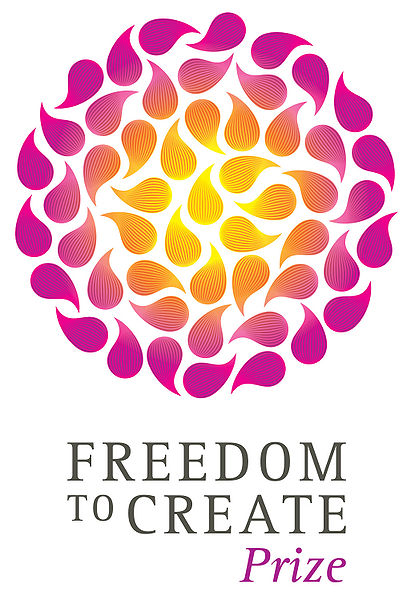 The shortlist for the 2009 Freedom to Create Prize has been announced.
Winners for the Main, Youth and Imprisoned Artist Prize categories will be unveiled at an awards ceremony to be held at the Victoria and Albert Museum, London, on 25 November 2009.

London – Mohsen Makhmalbaf, the celebrated filmmaker and official overseas spokesman for 2009 Iranian presidential candidate Mir-Hossein Mousavi, is today revealed as one of the shortlisted finalists for the 2009 Freedom to Create Prize. He joins Western Saharan singer Aziza Brahim, imprisoned Burmese poet Saw Wei and Afghani installation artist Sheenkai Alam Stanikzai and other artists from around the globe competing for US$125,000 in prize money.

Freedom to Create Prize founder Richard Chandler praised the bravery of this year's 1,015 artists from 110 countries who entered the prize.

"The Freedom to Create Prize is the only award of its kind in the world. It celebrates the power of art to fight oppression, break down stereotypes and build trust in societies where the social fabric has been ripped apart by conflict, violence and misunderstanding," said Mr Chandler. "Of most importance, the Prize also celebrates the bravery of artists who pursue their craft despite great danger to themselves."

The Prize is the celebratory component of a broader Freedom to Create initiative that uses art to drive change and help build the foundations of creativity in broken societies.

It will be judged by a panel of high profile artists, opinion formers, and human rights experts: Leading international human rights lawyer and jurist on the UN's Internal Justice Council Geoffrey Robertson QC; composer and founder of West-Eastern Divan Orchestra Daniel Barenboim; co-founder, along with Koffi Annan, of global diplomatic group, The Elders, and founder of Indian women and micro- finance movements Dr Ela Bhatt; BBC arts correspondent Razia Iqbal; Time Out founder and chair of Human Rights Watch Tony Elliot; award-winning Anglo-Indian artist Sacha Jafri; New York-based arts lawyer Peter Stern; artist and philanthropist Ana Tzarev; and Zimbabwean playwright Cont Mhlanga, winner of the inaugural Freedom to Create Prize in 2008.

The Main Prize finalists:
• Born in a refugee camp in Western Sahara, Aziza Brahim is a world musician whose songs have been outlawed in Morocco for championing the human rights of the Saharawi refugees in
one of the world's most least-understood conflicts.
• Former war photographer Karim Ben Khelifa draws on his experience and skill to create images which redefine and humanize the current conflict between Palestine and Israel.
• Celebrated Iranian filmmaker Mohsen Makhmalbaf has dedicated his craft to highlighting social justice issues both in his native Iran and in neighbouring countries such as Afghanistan.
He also established a film school to foster a new generation of Iranian filmmakers and has established NGOs in Afghanistan.
• Afghan female artist Sheenkai Alam Stanikzai uses video performance, installation and photography to tackle the subjugation and violent persecution of women in Afghanistan and neighbouring countries.
• Burmese refugee women's group, The Kumjing Storytellers, use giant paper maché dolls in an installation piece designed to represent their stories of ethnic persecution in Burma and the plight of migrants and refugees from around the world.

Five moving submissions make up the shortlist for the Youth Prize:
• The AOS Angels Performance Troupe are a group of HIV-infected children and AIDS orphans living in China who have used painting to express the isolation they experience every day.
• Dance group Genesis:Sarajevo is comprised of nine girls from Bosniak and Croat backgrounds living in Bosnia and Herzegovina. Using the city of Sarajevo as their stage, the girls perform against the backdrop of culturally relevant sites, such as a Catholic church or Islamic fountain, to heal their fractured communities and express their hope for a peaceful future.
• Poimboi Veeyah Koindu (The Orphan Boys of Koindu), is a performance group made up of former child soldiers from Sierra Leone's civil war. They use the power of dance and music to not only heal themselves, but to seek forgiveness and acceptance from their communities.
• Super Buddies Club in Swaziland has nominated 15 of their group who during their school holidays, wrote and performed a play empowering child victims of sexual abuse to speak out and seek help. Sexual abuse is one of the drivers of the spread of HIV in a country where 43% of the population lives with the disease.
• The Zugdidi Shalva Dadiani State Drama Theatre in Georgia, has brought together the region's refugee children to perform on the Abkhazian-Georgian border in the neutral zone on Enguri Bridge in a powerful piece called Peace Podium.

The three shortlisted artists for the Imprisoned Artist Prize are currently being detained in some of the most oppressive countries in the world:
• In September, Cameroonian singer Lapiro de Mbanga was jailed for three years after his song Constitution Constipeé became a rallying anthem for nation-wide protests over recent constitutional amendments.
• On 21 June, Iranian filmmaker, playwright and journalist Maziar Bahari was arrested and charged with attempting to overthrow the government following the disputed presidential elections. He was released on bail on October 17 after pressure from international human rights and media groups.
• Nationally celebrated Burmese poet and installation artist Saw Wei was jailed for two years in November 2008 for publishing a love poem which contained a code criticizing the leader of the Junta.
Conditions de participation