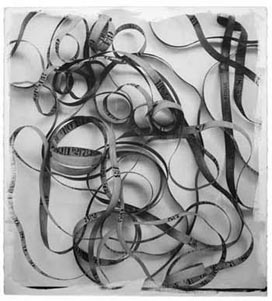 Stephen Inggs
Expositions du 17/10/2009 au 18/12/2009 Terminé
HackelBury Fine Art Ltd. 4 Launceston Place W85RL London Royaume-Uni
HackelBury Fine Art has brought together practitioners from around the globe who, despite their differing origins and schooling, all explore that fascinating place, or state of mind, that is sometimes just beyond our fingertips' grasp, at other times so distant as to be barely imaginable. These artists are progressive thinkers, delving into a realm with which philosophers, priests, and quantum physicists alike have grappled for centuries and attempted to explain or rationalise. Viewers who connect with the works in this exhibition will experience an uplifting and enlightening encounter. It is a feeling that transcends the written word, yet here I attempt to illuminate the attributes that make these artists so intriguing.

The desire to capture an ethereal, transcendent world, and to fix it on paper, has occupied photographers since the nineteenth century. The work of the spirit photographers of the 1870s has parallels with Calmen & Bech's Dans les limbes; László-Moholy-Nagy's abstract darkroom experiments of the 1920s and 30s have resonance with Garry Fabian Miller's camera-less studies; and Stephen Inggs' ability to capture the power possessed of the humblest everyday objects and plants has been likened to that of Irving Penn and William Eggleston. Despite the varied links to past practitioners, the artists in this exhibition are undoubtedly forward thinking and unique in their myriad approaches to the medium of photography. They are unified in their desire to lure the viewer into a contemplative study of their artworks; distinguishing themselves as interlocutors in an open-ended dialogue on artistic practice and its interpretation.
arry Fabian Miller is a pivotal figure in contemporary fine art photography, having pushed the boundaries of the medium for over thirty years. Since 1984 he has worked without a camera to create pictures of an increasingly abstract nature. Using the barest essentials of light, water and glass vessels he produces mesmerising images of beauty and purity. Printed by the artist's hand, each piece is one of a kind, or 'the temporal record of a unique light event captured only in the darkroom'(1) The proportions of Fabian Miller's Red. Yellow. Blue. May, 2009 – about the height and width of an average adult – invite the viewer to face this piece one-to-one, entering into a dialogue with the work. The blocks of saturated blue, red and yellow sing out joyously and elevate the soul; in the artist's own words:

"The pictures I make are of something as yet unseen, which may only exist on the paper surface, or subsequently may be found in the world. I am seeking a state of mind which lifts the spirit, gives strength and a moment of clarity." Fabian Miller's work is testament to the astounding power of colour and simple form to stir our emotions and alter our moods. Likewise, Bill Armstrong's sensitive use of colour combinations and subtle tones in the ongoing Infinity series (begun in 1997) transports the viewer to another sphere:

"The subject of these collages is colour; extreme de-focusing enables me to blend and distill hues, creating rhapsodies of colour that are meditative pieces – glimpses into a space of pure colour, beyond our focus, beyond our ken."
There is a figurative element to Armstrong's Renaissance portfolio: human bodies which writhe, fall, leap and dance, embodying the effervescent energy or the contemplative quietness of the colours themselves. The figures are appropriated from monochrome drawings by Renaissance masters, reconfigured by Armstrong and released from the confines of their original mythological, historical or Biblical settings. Despite the extreme blur, these bodies retain some religious or mythological quality. Like angels or gods, not bound to earthly horizons, they inhabit an atmosphere of pure colour.
An interest in religious iconography is also evident in Doug and Mike Starns' recent work. In the two artworks when I go and gonna sink me in the snow (2005-9) the image of Buddha is layered with snowflakes taken from the Starns' series alleverythingthatisyou. The snowflakes are stunning but flawed, as they explain:

'the series goes back to our earliest work, of showing imperfections and dust that show life. And as beautiful as it can be, it's never perfect'.

The juxtaposition of the sculpted Buddha's permanence, unwavering in his inner quietude, with the snowflake's fragility reflects the preoccupations of the human mind and the contradictions of the human condition. We are imperfect beings on an unending quest to attain perfection, to reach a higher state that many seek through a personal spiritual quest. The Starns' work is multi-layered in both meaning and materials. In these images they combine the ancient art of water gilding with modern microscopic lenses and the colour carbon photographic process. Patented by Louis Ducos du Hauron in 1868, the process is one of the most complex colour techniques. An object is photographed through green, orange and violet filters and the resulting three negatives are printed on delicate sheets of bichromate gelatine containing carbon pigments of red, blue and yellow. The use of pigments instead of dyes results in very stable prints, less susceptible to fading than many other forms of colour print.

The Starn twins are gifted alchemists with a unified vision and purpose. Similarly, the French duo Calmen & Bech work as one to bring out the best in each other; in their own words:

"From the very beginning, creating together was obvious, and since we first started, it never occurred to us not to. Creating together is a need. Creating together allows us to surpass ourselves, to go further and shoulder one another, to nurture each other and thus nourish our images."Since they began working conjointly in 2007, an air of mystery has surrounded Calmen & Bech, who are both successful independent artists under different names. The haunting black and white landscape photographs they produce are equally anonymous, with titles that reveal nothing of the geographical locations. The places themselves do not matter; what intrigues them are the symbolic elements and the mood of the site:

"Most of the images we have made were made in a radius of thirty kilometres. We explore the land slowly, carefully, in search of the unspeakable, the impalpable. In search of an emotion, a thrill. Looking for a rock which will soon take on the appearance of an altar. In search of a grove of trees which will become sanctuary. And, to quote the poem, in search of a tree which 'roots sink into the ground and which trunk rises towards the sky'. "
Their evocative, fragmented studies lead the viewer to destinations that the artists describe as 'the ends of our world'. Japanese photographer Masao Yamamoto shares Calmen & Bech's fascination with the natural world and humanity's relationship to it. KAWA=Flow, Yamamoto's newest series, centres on Zen ideology and the principles of Ryokan (1758-1831), a Zen Buddhist monk whose poems and haiku meditate on the transience of human life and the fulfilment that can be found through quiet contemplation and communion with nature:

The rain has stopped, the clouds have drifted away, and the weather is clear again.If your heart is pure, then all things in your world are pure.Abandon this fleeting world, abandon yourself,Then the moon and flowers will guide you along the Way.
- - -
The water of the valley streamNever shouts at the tainted world: "Purify yourself!"But naturally, as it is,Shows how it is done.

Yamamoto's delicate black and white photographs are like visual haiku – musings on passing clouds, mountain streams and birds in graceful flight. He has eloquently expressed the desired purpose of the works:

"I hope KAWA=Flow series will awaken a sense of relaxation and purification in the viewer's mind. I would be happy if my work somehow gives support and encouragement to the viewers as they move through their life. We should not hurry, but not stop. An ideal life for us is one of harmony and contentment."
The aesthetic appeal of Yamamoto's photographs lies in their apparent simplicity and quiet beauty, which is underpinned by a deep ideology. Stephen Inggs is also an accomplished craftsman of understated, but conceptually complex imagery. His pictures of the overlooked objects he collects, including an old telephone, worn-out garden shears and a measuring tape are made by a process that he describes as being 'at the intersection between printmaking, photography, painting and drawing'. The large scale of the prints (42 by 47 inches) transforms everyday things into monuments to personal and political histories. The battered items that Inggs resurrects have weathered decades of South Africa's tumultuous history, including the years of the republic, apartheid and the country's rejoining of the Commonwealth fifteen years ago. Inggs' photographs are 'ways of representing the particular histories, geographies and politics of identity in South Africa'. He goes on to explain:

"My interest lies in photographing objects by removing them from the locus of archaeology to the locus of display, underlining the way that it is possible for an artist to transform an object's value, and confer a canonical status to something that is usually overlooked. For me, objects are emblematic of transience and can hold traces of history as well as embody cultural residue. Susan Pearce speaks of 'the emotional potency which undoubtedly resides in many supposedly dead objects'." (2)

The items that Inggs depicts trigger our own memories too, thus the viewer intertwines his or her own history with the objects' stories. The appeal to our personal senses, emotions and memories unites the artists featured in this exhibition. We are invited to engage with the art in the present moment; to free ourselves from the ties of reality and escape to a place beyond words.

Susanna Brown, Curator of Photographs, Victoria and Albert Museum,
London September 2009