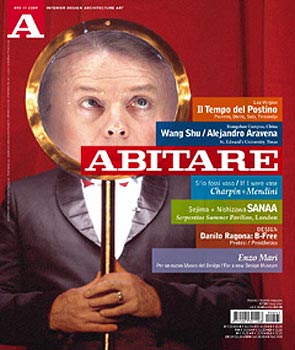 Following its tradition of dealing with architecture, design and the visual arts, and their mutual influences, the international magazine ABITARE continues to experiment different ways of approaching and understanding reality, exploring new forms of narrative and presenting a selection of projects and articles that reflect the contemporary world.

The new September 2009 issue of ABITARE is out.

An actor wearing a tuxedo in front of a red curtain looms from the cover of the new issue of ABITARE. This image comes from a performance by Philippe Parreno during "Il Tempo del Postino" in Basel, where Lea Vergine went to report on a new way of presenting art, and analysed, critically, its effectiveness and novelty-value.


The issue opens with "Il Tempo del Postino" and is closed by the studio visit of the Office section, where Maurizio Cattelan, Massimiliano Gioni and Ali Subotnick enter the studio of artist Raymond Pettibon.

In his editorial piece, editor in chief Stefano Boeri tackles a delicate and complex matter: how the future Milan Expo in 2015 can become an opportunity for imagining this event as the springboard for more open and participatory urban development.

In the Design Anatomy section, meastro of design Alessandro Mendini digs deep into his memory and his archives to trace an exciting and sensual history of vases and porcelain, by observing recent projects created by Pierre Charpin for the Sèvres company.

Thick walls and small windows are common to many of the architecture projects selected in this issue, protecting interiors where calm, intimacy and concentration are required.

This is the case with the St. Edwards University in Austin, designed by Alejandro Aravena, who explains how architecture is a civic action aimed at the general public.

The creation of an environment which helps study and thought is at the centre of the project for the Xiangshan Campus of the China Academy of Art, designed by Wang Shu, who discusses the concepts underlying its design with architecture and art critic Fang Zhenning. Thick vegetation has by now covered the pavilion designed ten years ago by Beniamino Servino in the Volturno valley, adding one more layer of protection to interiors which are used to host parties.

Different kinds of parties and gatherings take place below the shining aluminium cloud that SANAA gently dropped at the side of the Serpentine Gallery: light and air become the perfect companions to chatter and drinks in this year's gentle London summer.

Enzo Mari inaugurates a new kind of design museum in this issue, which will be collecting objects submitted by designers, architects, critics: this cadavre exquis game which will be available through the ABITARE website.

Design editor Anniina Koivu takes us on a fascinating trip through new developments in prosthetics design.

And there is more: innovative new products by Alessi and Lago; Michel Charlot, a young emerging talent from the thriving French design scene who was, spotted at the Design Parade at Villa Noailles in Hyeres; the ninth class in the photography course run by Gabriele Basilico and a mysterious artificial micro-nation, the Isola delle Rose, which is emerging after almost 40 years from the depths of the Adriatic sea.