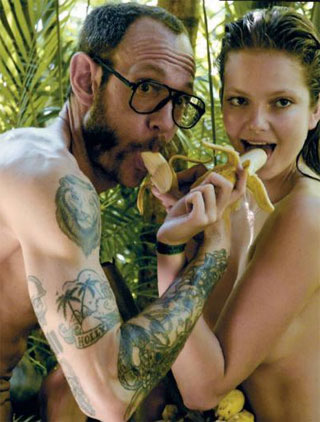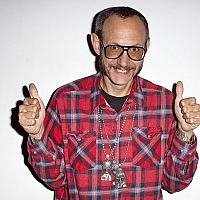 Pour son édition 2010, Pirelli a choisi le photographe controversé Terry Richardson. Ce calendrier 2010 devrait donc être à la hauteur des espérances de la marque de pneumatiques : sulfureux et provoquant.

Terry Richardson is an international celebrity as well as one of the most prolific and compelling photographers of his generation. Known for his uncanny ability to cut to the raw essence of whomever appears before his lens, Mr. Richardson's vision is at once humorous, tragic, often beautiful, and always provocative.
Born in New York City and raised in Hollywood, Terry began photographing his environment while attending Hollywood High School and playing in a punk rock band. And he hasn't stopped shooting since. Mr. Richardson has lensed campaigns for such clients as Gucci, Sisley, Miu Miu, Levi's, Eres, Chloe, APC, Carolina Herrera, Nike, and Kenneth Cole. Terry's editorial work has appeared in magazines such as Vogue, French Vogue, British Vogue, Japanese Vogue, I-D, Dazed and Confused, GQ, Harper's Bazaar, W, and Purple, as well as a host of worldwide
publications too numerous to mention.

Mr. Richardson is also a favorite among famous actors and musicians. His impressive list of subjects includes Daniel Day Lewis, Faye Dunaway, Leonardo DiCaprio, Vincent Gallo, Tom Ford, Marc Jacobs, Sharon Stone, Mickey Rourke, Jay Z, 50 Cent, Kanye West, Mena Suvari, Johnny Knoxville, Nicolas Cage, Dennis Hopper, Maggie Gylenhall, Karl Lagerfeld, Pharell Williams, Chloe Sevigny, and many others.

Terry has been the subject of numerous group shows as well as one man shows at such esteemed galleries as The Alleged Gallery in New York City, The Shine Gallery in London, Gallery Emanuel Perriton in Paris, The Parco Gallery in Japan, and most recently, Deitch Projects also in New York City.

Many books have also been published throughout the span of Terry's career. His first book, entitled Hysteric Glamour, was published in 1998; this was followed by Son of Bob in 1999, Feared by Men Desired by Women in 2000, Too Much in 2001, and 2004 saw the publishing of both Terryworld and Kibosh.


Terry has recently made the transition from still photography to film as well, helming music videos for Primal Scream, Death in Vegas, and Whirlwind Heat in addition to television commercials for Tommy Hilfiger and the internet company Wanadoo. His feature film debut "Son of a Bitch," is currently in development and is sure to captivate audiences with its stark portrayal of a father and son's struggle with love and hate.

Whatever the medium, Terry Richardson continues to prove that he is a true American Original.