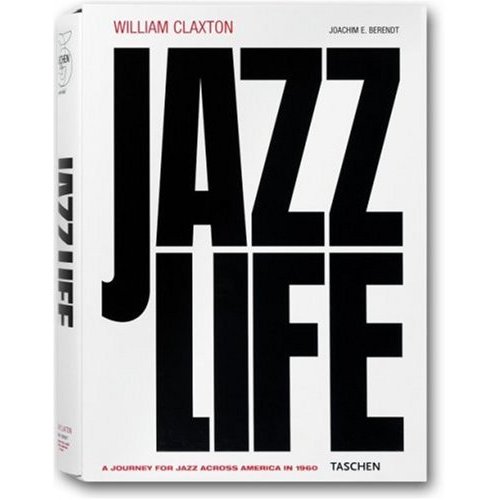 The sights and sounds of American jazz

In 1960, photographer William Claxton and noted German musicologist Joachim Berendt traveled the United States hot on the trail of jazz music. The result of their collaboration was an amazing collection of photographs and recordings of legendary artists as well as unknown street musicians.

The book Jazzlife, the original fruit of their labors, has become a collector`s item that is highly treasured among jazz and photography fans. In 2003, TASCHEN began reassembling this important collection of material—along with many never-before-seen color images from those trips. They are brought together in this updated volume, which includes a foreword by Claxton tracing his travels with Berendt and his love affair with jazz music in general. Utilizing the benefits of today's digital technology, a restored audio CD from Joachim Berendt's original recordings has been produced and is included in this package. Jazz fans will be delighted to be able to take a jazz-trip through time, both seeing and hearing the music as Claxton and Berendt originally experienced it.

• Featuring photographs of Charlie Parker, Count Basie, Duke Ellington, Muddy Waters, Gabor Szabo, Dave Brubeck, Stan Getz, Billie Holiday, Ella Fitzgerald, Miles Davis, Charlie Mingus, Thelonious Monk, John Coltrane, and many more
• Includes bonus CD of digitally remastered recordings of music made during Berendt and Claxton`s journey (originally released in 1960 as two records)

About the photographer:
William Claxton (1927-2008) began his career shooting jazz record cover art. His iconic images of Chet Baker, Charlie Parker, Duke Ellington, Dizzy Gillespie, Billie Holiday and many others reflect his preeminence among photographers of jazz music. Claxton worked for many of the biggest publishers including Life, Paris Match, and Vogue magazines. His work has been shown in galleries around the world, and his photographic prints are now sought after by collectors of fine art photography. He passed away on October 11, 2008 in his hometown Los Angeles.

About the author:
Joachim E. Berendt was a founding member of South West German Radio (Südwestfunk) and produced more than 250 records. In 1953, he first published Das Jazzbuch, which became the most successful history book on jazz worldwide. His collection of records, books, and jazz documents form the basis of the Jazzinstitut Darmstadt. Berendt died in an accident in 2000. His contributions to jazz are internationally recognized to this day.