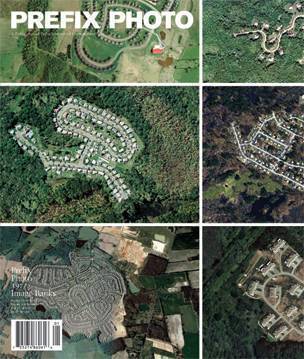 Prefix Institute of Contemporary Art is pleased to announce the release of the nineteenth issue of Prefix Photo magazine. On its theme of 'Image Banks,' editor Scott McLeod writes: 'Contemporary visual artists engage with the archive – its organizational structures, its conceptual underpinnings, its order and its disarray – in a myriad of fascinating ways. Beyond the mere act of collecting and assembling, they creatively excavate the archive's mechanisms to reveal its constitutive principles and surprising rewards.' This issue features contributors engaging with a host of contemporary photo, media and installation artists, as follows:

Peggy Gale, in 'Assembling the Givens,' discusses the new film installation 'Every Building, or Site, that a Building Permit Has Been Issued for a New Building in Toronto in 2006' by Canadian sculptors Christian Giroux and Daniel Young. In so doing, she recalls earlier photographic works with tellingly similar titles by Ed Ruscha and Stan Douglas, contrasting 'Every Building …' with its precursors in both form and intention.

Dot Tuer's essay explores the aesthetic strategies and contexts for reception of Vera Frenkel's multi-media artwork, 'Body Missing'. Central to this essay is a consideration of how Frenkel's artwork is an ethical meditation on the intersections of image, remembrance, trauma and history.

Jan Allen, in her text on the work of Newfoundland artist Marlene Creates, examines three works from the late 1990s. Creates's art engages with our condition as a restless species, ever curious and driven to test ourselves against new territory. Her practice plumbs our ongoing negotiation of mutual accommodation to the physical and social rhythms of place.

Sarah Robayo Sheridan, in her literary feature 'Maid Sleeping, 18 Stafford Terrace,' meditates on the social, ethical and class implications of Edward Linley Sambourne's Victorian-era photograph, speculating on its relationship to today's ubiquitous culture of surveillance.

Other contributors include Jeremy Drummond, Peter Granser, Angela Grauerholz, David Maisel, Jayce Salloum, and more.


Prefix Photo is available by subscription and in fine bookstores and newsstands in Canada, the United States, the United Kingdom, Portugal, Spain, Greece, Turkey, Singapore and China.

For their assistance with the release party held for issue 19 in Toronto, Prefix Institute of Contemporary Art gratefully acknowledges its Supporting Sponsor Steam Whistle Brewing and its Official Catering Sponsor à la Carte Kitchen.

Prefix Photo is published with the assistance of its staff, volunteers and patrons, as well as the Ontario Arts Council, the Ontario Media Development Corporation and the Canada Council for the Arts. Prefix Photo also acknowledges the financial support of the Government of Canada through the Canada Magazine Fund toward its editorial and production costs. The Ontario Arts Council is an agency of the Government of Ontario.