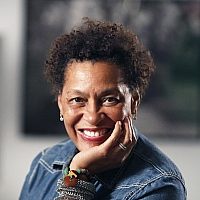 Carrie Mae weems
#Photographe
#Incontournable
Carrie Mae Weems, née en 1953 à Portland, invite à l'exploration des questions de race, de sexe et des inégalités de classes sociales. Depuis trente ans, Carrie Mae Weems utilise son regard artistique pour mettre en lumière le quotidien méconnu d'individus marginalisés. Comprendre le groupe social auquel elle appartient : la communauté noire américaine. Son objectif ? Stimuler l'une plus grandes prises de conscience et accompagner la lutte pour l'égalité et la justice. Ainsi, Weems a utilisé plusieurs procédés photographiques et vidéographiques pour créer des scènes fictionnelles, dont elle est souvent l'un des sujets, ou interroger sur l'identité de personnages réels. Jusqu'au 14 mai 2014, elle fait l'objet d'une rétrospective sur deux étages au Guggenheim Museum de New York.

Bien que ses sujets principaux soient des membres de la communauté afro-américaine, Carrie Mae Weems a toujours voulu que « les gens de couleur expriment les multitudes de l'humanité », aussi que ses travaux soient accessibles à tous. Ici, on plonge dans l'évolution de la carrière de l'artiste, de ses débuts où son genre photographique est plutôt documentaire à ses séries autobiographiques en passant par ses travaux plus conceptuels, complexes, voire philosophiques, qui ont fait d'elle une avant-garde de l'art contemporain. Il est surtout question de comprendre le présent en examinant de près l'histoire. Et l'exposition propose principalement des photographies, notamment celle de sa célèbre série Kitchen Table Series (1990), où elle apparaît dans différentes mises en scène et accompagnée de divers personnages ; ou bien celles de From Here I Saw What Happened and I Cried (1995-96), vibrante association de portraits de noirs, d'un filtre rouge et de textes en forme de revendications. Dans la première, les questions relatives à l'identité noire contemporaine passent par le contexte social, et dans ce cas celui de sa propre famille. En point de repère, une table de cuisine donc, où est décrit le rôle de la femme au sein de la communauté, un cadre domestique auquel le spectateur est convié, comme dans une pièce de théâtre privé. La seconde, elle, présentée au 4e étage, est certainement sa plus engagée. Carrie Mae Weems se base sur des photographies historiques, des portraits pour être précis, pour aborder les préjugés envers les Afro-Américains à travers les XIXe et XXe siècles. Un désir d'enquêter sur les causes et les effets du racisme, de l'esclavage et d'un certain impérialisme, stimulé par de nombreux voyages à travers les Etats-Unis.

La vidéo est alors une extension naturelle de la narration photographique de l'artiste, un medium qu'elle aime agrémenter de sons et musiques. Même si, jeune, elle s'est intéressée au cinéma durant ses études à l'Institut des Arts de Californie, la première œuvre du genre réalisée par Carrie Mae Weems vient en 2003 avec Coming Up for Air. Un diaporama poétique de vignettes qui examine les relations entre être humains, notamment celles, amoureuses, entre les hommes noirs et les femmes blanches dans la Nouvelle-Orléans d'avant-guerre de Sécession, les querelles et réconciliations de deux sœurs, l'intimité d'un enfant et d'un père, et celle de deux jeunes amoureux (une personnification de Winnie et Nelson Mandela) avant la perte de l'innocence. Bien sûr, d'autres œuvres vidéo sont présentes dans l'exposition, dont les essais Italian Dreams (2006), Afro Chic (2009), et Constructing History: A Requiem to Mark the Moment (2008). Bien que la revendication soit omniprésente dans l'œuvre de Carrie Mae Weems, elle sait ne pas manquer d'humour ou toucher inconsciemment son public par l'identification. Au Guggenheim, l'engagement social se conçoit en subtilité.


---
(Charles Guice Contemporary, Berkeley, CA) - Part storyteller, folklorist, and image-maker, this contemporary artist has defied simple explanation for more than twenty years. Throughout her career, making use of conceptual photography, sculpture, sound, and video, Weems has integrated text with the visual image to document and challenge perception of race, class, and gender. And while she typically uses black subjects in her work, her images are meant to represent people of all ethnicities. Weems studied at California Institute of the Arts, the University of California, San Diego, and the University of California, Berkley. Her work is included in the permanent collections of the Metropolitan Museum of Art, the Museum of Modern Art, the Whitney Museum, and the San Francisco Museum of Modern Art.