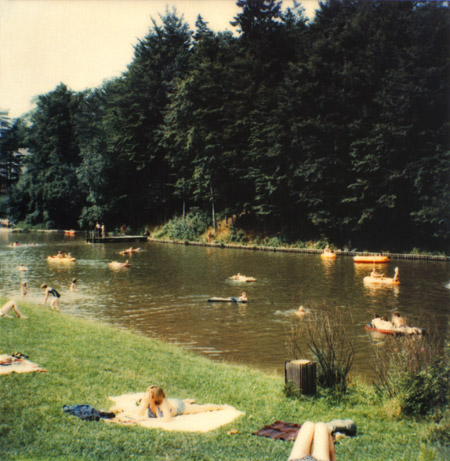 "The extraordinariness of Knut Maron's universe does not lie in astonishing forms or new themes. Its profound distinctiveness is not the consequence of breaking through hitherto accepted boundaries of art. Instead it results from a meditative reversion to art itself, from transcending its timeless truths. Knut Maron doesn't shock us, he just sees things differently. His art doesn't participate in modern civilisation's innate urge to advance with technological breakthroughs and revolutionary ambitions. And that's exactly how it evades a last restraint, the desire to serve or adhere to the development of the society around us. By bringing the prerequisites of his medium in accordance with the command of a newly created universe, he avoids the need to gloss over or to prove anything. And that's how he creates his astounding scale of colours, and transfers us to another world where familiar notions of old and new, natural and artificial, reality and dream no longer apply, as they have been replaced by a supreme vision." - Jean Claude Lemagny


"Taking the perspective of the eye, in pure and attentive observation, without touching, disturbing, or causing any kind of irritation - to Knut Maron reverential reflection is perhaps the ultimate human attitude. There is a possible answer to nature, which offers us its rivers, its marred viscera, its rocks and trees: it is the gift of observation." - Dominique Baqué

Maron studied at the Folkwangschule in Essen in the class of Prof. Dr. Otto Steinert and Prof. Erich vom Endt along with Gosbert Adler, Joachim Brohm and Andreas Gursky. Fundamental discourses among the Folkwang students took place in the colour photography lab at the first professional colour photography department in a German university set up by Erich vom Endt.

Ute Eskildsen initially exhibited Maron's first colour photographs from 1979 at the Museum Folkwang in 1981. Knut Maron has received numerous scholarships and prizes, among them the Leopold Godowsky Jr. Award for Color Photography awarded to him by the Photographic Resource Center at Boston University in 1993. Knut Maron's works are represented in many collections, such as Museum Folkwang, Essen; Museum Ludwig, Cologne; Staatsgalerie Stuttgart; Musée Européen de la Photo, Paris; Bibliothèque Nationale de France, Paris, where Jean-Claude Lemagny, who wrote the above observations on Maron's "Bilder über Landschaften", is head of the photo collection.

Andreas Steffens

True Nature
- Knut Marons early "Bilder über Landschaften"

The political turmoil of the "German Autumn" in which the unbearable 1970s culminated was followed by the intellectual excitement about the "New Philosophers" (nouveaux philosophes) and "Postmodernism" with which the 1980s began. It was the time when first theoretical concepts about "the virtual" and "new media" emerged, and the newest aesthetic reverted to its oldest origins in a newly defined Romanticism, and the rediscovery of the "sublime" proved just how precisely old thinking could apply to the new phenomena. This was also the time of colour photography's legitimisation as an artistic medium. William Eggleston had secured its breakthrough in 1976 with his show at the Museum of Modern Art in New York. From this point artists were presented with the challenge of increasing the recognition of this widespread journalistic medium as a concentrated visual art form.

In this respect Knut Maron's "Bilder über Landschaften" (images over and about landscapes) retrospectively prove to have accomplished first-rate pioneering work on this front. Developed in the very first lab for colour photography set up in a German art academy at the Folkwangschule in Essen, they were instantly more than just experiments. In an ironic reversal of the relation between object and theme, they turned the popular Polaroid photograph into a medium for rather metaphysical war coverage from the dregs of a petit bourgeois summer holidaymaker's misconception of nature. They epitomise the aesthetic imperative of the insignificance of man as a theme in landscape painting that Heinrich Wölfflin had established in 1926 in review about Arnold Böcklin. The manner in which Maron's photographs depict humans in the context of nature, demonstrates how disconnected they are from nature. Even in a photograph including more than 30 people, they seem to be disappearing. While these figures are essential to the composition, they assert the reality of human superfluity.

In this metaphysical transferral, the matter of "sublime" quality, which 1980s aesthetics discovered in a more anthropological sense, becomes evident: as much we are an integral part of nature as humans, we also find ourselves in a relationship of mutual estrangement. In this early series, Maron succeeds in emancipating colour photography from the aesthetics of documentary journalism by establishing an extreme external position: the photographer simply observes, he just looks and no longer takes part in the situation he is showing. And that is exactly where the first and most important criterion of the photographic work of art lies: in commenting the scene it grasps.

The comment these "Bilder über Landschaften" offer is conceivably matter of fact, and at the same time they express a tentative intense beauty and an equally tentative indication of an elementary threat that foils the romantic misunderstanding of Romanticism as a taming of nature: the world continues to exist without us; we exist, but we only become a requisite part of it through the position we take.