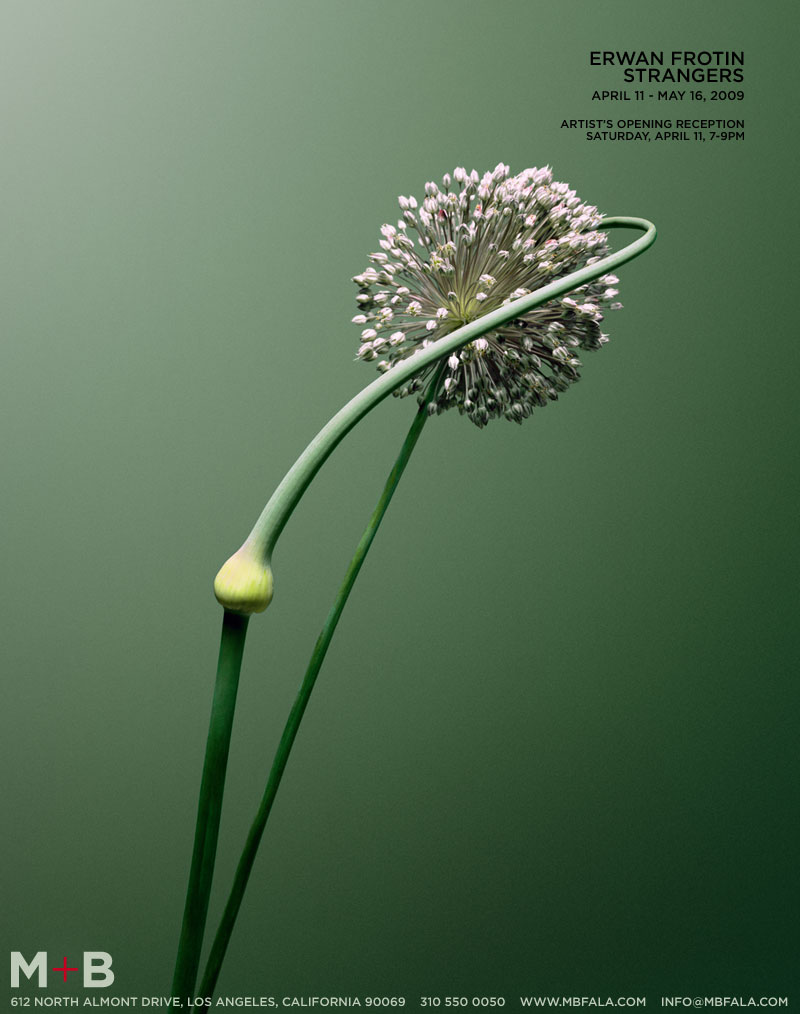 Expositions du 11/4/2009 au 16/5/2009 Terminé
M+B 612 NORTH ALMONT DRIVE LOS ANGELES 90069 California États-Unis M+B is pleased to announce the first US solo exhibition of color photographs by 30-year-old Swiss and French photographer ERWAN FROTIN in STRANGERS, opening on April 11 and running through May 16. STRANGERS captures the flowers of Hyères (Flora Olbiensis), the dramatic and highly specialized world of plants in the region around the Villa Noailles—known as a birthplace of Surrealism—and pictures them in a fresh and invigorating way with closer ties to portraiture than a biological cataloguing of species His is a contemporary take on the genre of still life, fusing organic and inorganic materials to form unexpected results. In these images, one truly comprehends the flower as the perfect union of form and function.

The flowers of Hyères are magnified and recorded carefully by Frotin's camera. Only one plant ever occupies the frame, and each individual plant's colors and shapes are heightened with the use of vividly colored graduated backgrounds that glow and pulse with energy. The recontextualization of the flowers momentarily confounds but then becomes clear to the viewer, evoking a feeling Freud described as "strange strangeness." Removed from their natural matrix, isolated in an artificial field of color and captured for posterity, Frotin's flowers are the converse of traditional notions of their ephemeral beauty in nature.

A little bit of science mixed with mythology, one sees the influences of H.P. Lovecraft (of whom Frotin is a fan) and Karl Blossfeldt, whose study of flora in his seminal book Urformen der Kunst (The Original Art) was a public benchmark in the appreciation of the art and object of plants. Flora Olbiensis was initiated and sponsored by the Villa Noailles Association and the French Ministry of Culture and Communication. Daunted at first by the scope of the project, Frotin began the series with a walk, and for three years, from 2005 to 2007, Frotin meticulously documented the rare and unexpected specimens. Despite his exhaustive exploration, he muses that perhaps the most beautiful flower is still out there, waiting to be discovered. In documenting this series, Frotin expressed a desire to intervene as little as possible and described his approach as being somewhere between sculpture and photography. Above all, he said, the series is not simply "just some flowers," but instead, Frotin asks us to view the flowers from the eyes of the soul, so as to ultimately lead us "to a vision of ourselves, through the flower."

Erwan Frotin graduated from the prestigious L'Ecole Cantonale d'Art de Lausanne (ECAL) in 2002, with a degree in photography, along with a background in biology and art history. The same year, he was awarded the Photography Grand Prix at the Festival de Hyères, which was quickly followed by his first commission for French Vogue. Since then, Frotin has created exclusive editorials for French Vogue, Vogues Hommes International, The New York Times Magazine, Another Magazine, Paradis and Dazed and Confused. This will be Frotin's first exhibition with M+B.