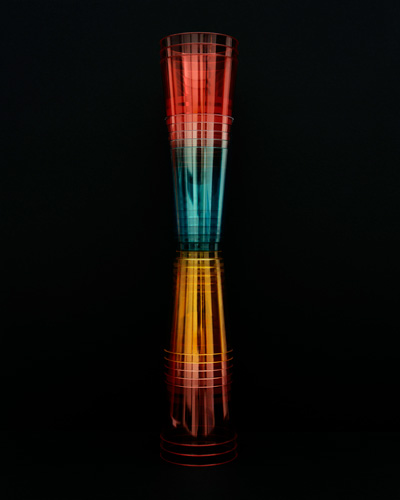 Richard Caldicott, New Work, Untitled 3, 2008, edition of 15, image
Expositions du 21/1/2009 au 21/2/2009 Terminé
Hamiltons Gallery 13 Carlos Place, W1Y 2EU London Royaume-Uni Within this new series of large format works, Richard Caldicott marks a fundamental shift and return to previous concerns, that of the still life motif. "I wanted to deal with concrete objects again." Caldicott.

Reminiscent of his Tupperware series exhibited at Hamiltons in Spring 2002, these ordinary plastic cups assume a seductive, pensive aura, they are about colour and light rather than the objects themselves. The viewer is encouraged to look beyond the practical surface of the work and celebrate the unexpected beauty of these mundane household items. "A plastic cup can be the most banal form possible and the work tests the viewers attention; will they allow the simplicity of this object to be contemplative or will they dismiss it completely?" Caldicott.

By stacking one cup over another they are transformed into glowing, colour saturated sculptural forms - finely balanced acts and playful combinations of translucency and opacity, set against black backgrounds. The minimalist and elegant grandeur of these towers belie their throwaway function and Caldicott plays with the notions of balance, repetition and rhythm, as well as light and reflection as a means of dematerialising the objects.

A further exploration is that of the relationship between sculpture and photography; having created these totemic constructions Caldicott exhibits just their photographic representations and comments that "one is encouraged to recognise the object as an entity that cannot be viewed firsthand but experienced vicariously through photographic incarnations." Caldicott.

Caldicott, born in 1962, lives and works in London. Since graduating from the Royal College of Art, 1987, his work has been exhibited internationally in both solo and group exhibitions with works residing in many significant public and private collections including Kunstmuseum, Bonn; Sir Elton John Collection, UK; Elfering Collection, Miami and Goss Michael Collection, Dallas/London; amongst others.