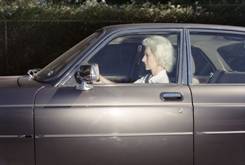 Expositions du 23/4/2009 au 6/6/2009 Terminé
Yossi Milo Gallery 245 Tenth Avenue 10001 New York États-Unis Andrew Bush's series Vector Portraits was taken while the artist traveled the city streets and freeways of Los Angeles. Either stopped in traffic or traveling at speeds of 30 to 70 miles per hour, the artist took portraits of other drivers using a medium-format camera attached to the passenger side door of his car. The series explores American car culture and raises questions regarding personal privacy and the definition of public space.

Exhibitions of the series will run concurrently at Yossi Milo Gallery and Julie Saul Gallery.

Andrew Bush was born in 1956 in St. Louis, and he currently lives and works in Los Angeles. His work is held the collections of institutions such as the Victoria & Albert Museum; the Museum of Fine Arts, Houston; and the Museum of Modern Art, New York. In 2008, Yale University Press published Drive, a book of work from the series, which includes a conversation between the artist and Jeff L. Rosenheim, a curator of photographs at the Metropolitan Museum of Art.