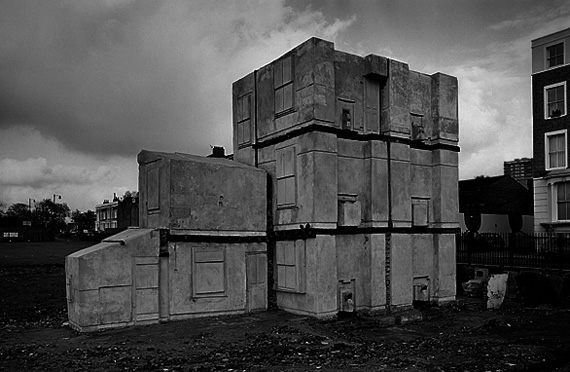 Expositions du 13/1/2009 au 31/1/2009 Terminé
Michael Hoppen Gallery 3 Jubilee Place SW3 3TD London Royaume-Uni Narrative landscape photographer, John Davies, captures the British landscape in a permanent state of flux. His black and white photographs show the vast, complex and majestic scenery of industrial and post industrial Britain. He establishes classical geometries within his unique vision that take on a mystical appeal. His works are coolly detached and seductive, showing moments of calm and quiet amidst the inevitable change of the modern landscape.

In the late 1980s, Rachel Whiteread began casting the 'negative spaces' inside and underneath domestic objects and soon moved on to architectural features and entire rooms. She was awarded the Turner prize in 1993.

Davies produced a series of nine photographs of House, a public sculpture made by casting the interior of a condemned three-storey terrace house in East London. The series begins on the site of the condemned building, documenting the scaffolding going up, the cement 'ghost' of the building, and finally, the empty space the structure occupied.

The House project was commissioned by the public works organisation Artangel. Whiteread asked Artangel to commission Davies to make some pictures for a limited edition book to record what was her largest and most ambitious work to date.

Whiteread created the work by spraying liquid concrete into the building's empty shell before its walls were removed. The work became a temporary monument to lost communities and a focus for public debate before it was demolished in January 1994. It stood alone as a symbol of survival, as all the other houses in Grove Road had already been knocked down to make way for redevelopment.
The photographs are now all that remain of the house, the site and the sculpture.