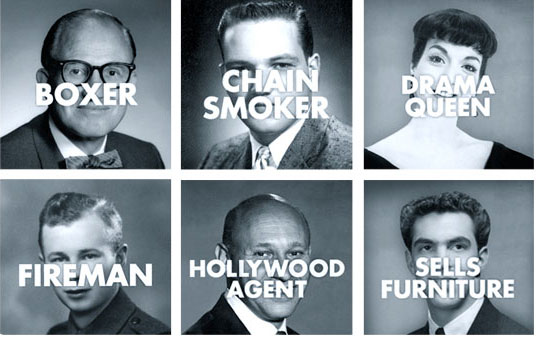 Expositions du 23/10/2008 au 15/11/2008 Terminé

Guy Hepner Contemporary Knightsbridge London Royaume-Uni


Los Angeles based, Detroit native Neal Spector is no stranger to the limelight. Before commencing work as an artist, Spector was one of the foudning creatives behind one of Hollywood's biggest creative firms. Years of exposure to both television and conspicuous consumption inspired him to create the 'Labels' body of work. Taking the television show 'What's My Line?' as his cue, Spector's work is a curious mix of influences. References to Richard Prince, Jenny Holzer and Barbara Kruger all exist, creating powerful portraits that convey a telling critique on the society we live in. Spector works in both colour and black and white, using digitally manipulated original source imagery and vintage photography.

'Labels' is a collection of portraits that make a telling commentary on the contemporary world in which we live. Each image superimposes the sitters occupation over the yearbook style portrait. The work is divided into two separate categories; colour images of childen and black and white vintage images of adults. All photographs are c prints on paper. Black and white images are available individually, colour images come as an installation of nine images. Each occupation is true to the sitter and reflects their real occupation. The synergy between these statements and images is startling, with the viewer expecting the two to be an artificial, not natural union.