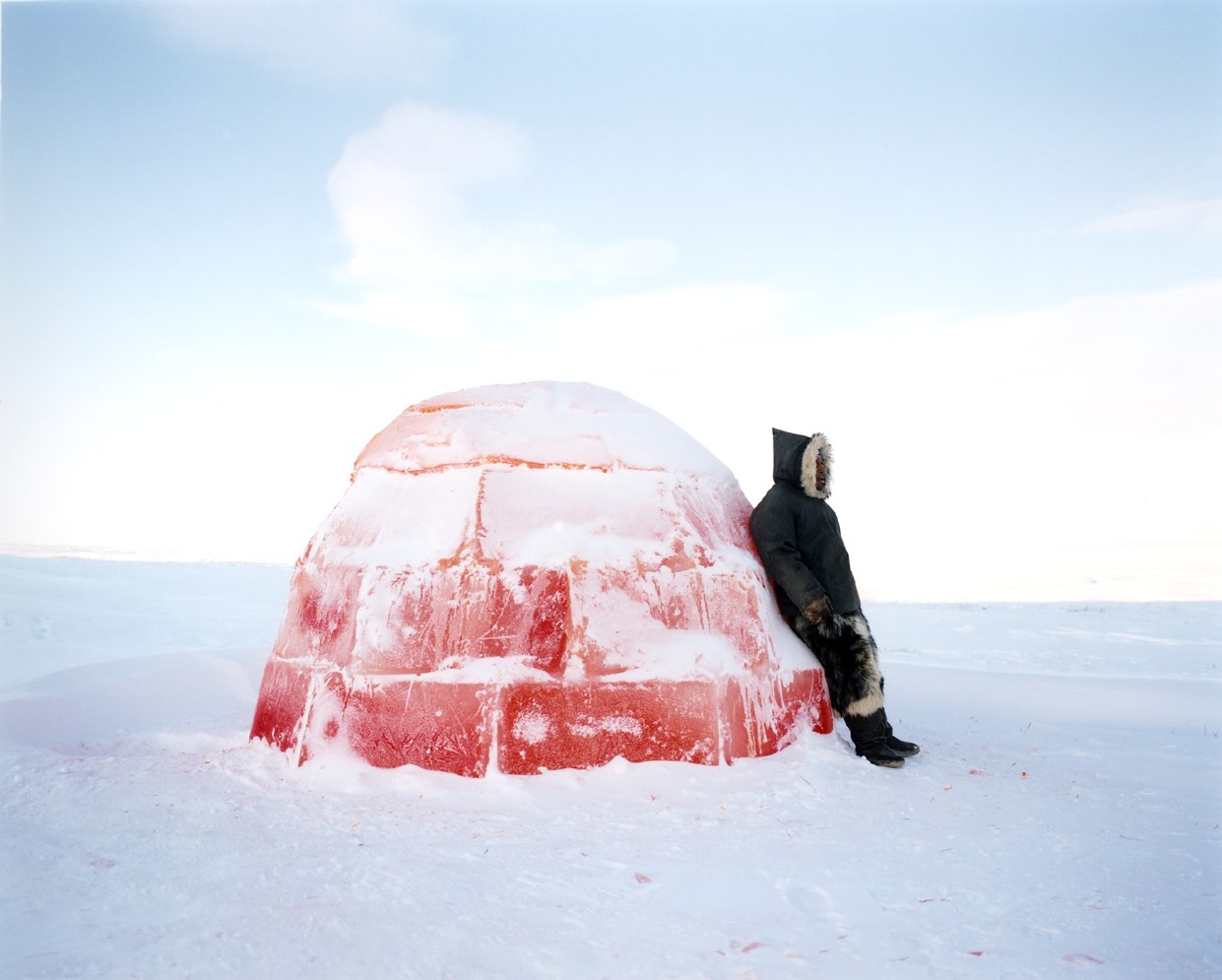 Expositions du 5/2/2009 au 29/3/2009 Terminé
Michael Hoppen Gallery 3 Jubilee Place SW3 3TD London Royaume-Uni In this new series, Hooft Graafland successfully combines straight photographic practise with performance and sculpture. The resulting work is delightful - visually engaging yet constantly referring to a more profound cultural discourse. Using a surrealist language of intriguing visual jokes, Hooft Graafland wittily alludes to her anthropological interests and environmental concerns. For You Winter, let's get divorced, she spent four months living in Igloolik in the northern reaches of Canada. The beauty of the harsh natural landscape with its infinite snow and ice forms Scarlett's canvas and playground - a pair of rubber gloves are joined in prayer before an iceberg- is their wearer imprisoned under the snow or perhaps attempting an appeal to save the huge yet vulnerable iceberg from its imminent demise.

Although her concerns are serious, Scarlett's childlike palette and informed wit are intrinsic to her work. Bold colour, incongruous objects and local folklore are combined to create an individualistic take on themes such as cultural integrity, domesticity, as well as the dire environmental issues facing the region.

Her diptych, from which the show takes it's title, 'You Winter, lets get divorced' was inspired by the words of an old Inuit poem, which describes how isolation and alienation caused by long term exposure to the bleak landscape and endless dark begin to affect the Inuit, and to experience warmth and light becomes necessity. Scarlett herself was not immune. 'I did not spend the full winter months up there…but even during the four months I spent in Igloolik I started to long for friendlier weather, to see some colour again, flowers, moss, birds.'

Born in 1973 in the Netherlands, Hooft Graafland is based in both Amsterdam and New York. Her work to date has included sculpture, installations, photography and performance. She has studied at the Royal Academy of Fine Arts, The Hague, Bezalel Academy, Jerusalem and Parsons School of Design, New York. She has had solo exhibitions all over Europe and has been part of group shows at the Metropolitan Museum, New York and Musée D'Orsay, Paris, amongst others.

You Winter, let's get divorced follows from Hooft Graafland's last show at Michael Hoppen Contemporary which was work made in Bolivia, entitled Soft Horizons.

Work from You Winter, let's get divorced will be also shown by Michael Hoppen Contemporary at Art Miami this December.