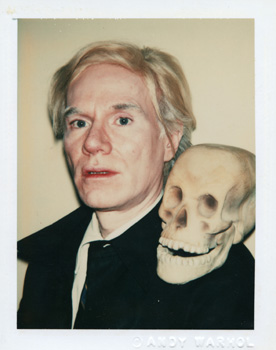 Andy Warhol Self-Portrait, 1977, The Andy Warhol Museum, Pittsburgh; Founding Collection (c) 2008 The Andy Warhol Foundation for the Visual Arts, Inc. All rights reserved.
Expositions du 7/10/2008 au 18/1/2009 Terminé
The Hayward Southbank Centre, Belvedere Road, SE18XZ London Royaume-Uni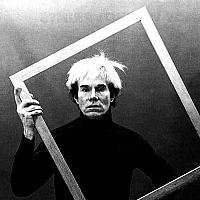 "Before I was shot I always suspected I was watching TV instead of living life. Right when I was being shot, and ever since, I knew that I was watching television.' Andy Warhol, 1968

No artist living in the second half of the 20th century has made a deeper impression on popular culture than Andy Warhol (1928-1987). 40 years on from Warhol's first major exhibition in Europe, and his infamous shooting by Valerie Solanas, The Hayward presents a major exhibition that brings a fresh perspective to his work Andy Warhol: Other Voices, Other Rooms, 7 October 2008 – 18 January 2009.

Visitors will be immersed in Warhol's way of thinking and working through the exciting multi-media installation which will transform the gallery. Paintings and prints of famous icons including Marilyn Monroe and Campbell's soup tins, will be shown alongside video, TV programmes, films, Polaroid photos, delicate drawings, album covers and wallpaper patterns. This vivid presentation reflects Warhol's egalitarian maxim, 'all is pretty'; with all media presented on the same level.

Andy Warhol was fascinated with film and television and the exhibition explores the relationship between the moving image and the still image in his work. It brings together films, screen tests, videos, and TV programmes, which combined with extraordinary archive material, seminal paintings and installations, illuminates his creative process, sheds new light on his work and explores his genius for discerning the way pop culture penetrates our lives.

Highlights of the exhibition include:
• Iconic 'Pop Art' works including screen prints of Marilyn Monroe, Campbell Soup Tins, Flowers and Electric Chairs
• 19 of Warhol's films, including Sleep (1963), Empire (1964), Poor Little Rich Girl (1965), and Chelsea Girls (1966) presented together simultaneously in a unique installation. A further eight films will be shown in a separate screening room.
• Screen tests of artists, writers and musicians such as Allen Ginsberg, Marcel Duchamp, John Cale and Salvador Dali
• Factory Diaries – video diaries showing the inner workings of the Factory – capturing regulars and celebrities such as David Bowie and Liza Minnelli, as well as Warhol's creative process
• All 42 episodes from his 1980s cable TV serials, 'Fashion'; 'Andy Warhol's TV'; and 'Andy Warhol's Fifteen Minutes'; in which he appeared with friends such as Debbie Harry and Jerry Hall. These have never been shown together before and will be screened synchronously in a unique installation.
• The entire contents of Time Capsule 92 featuring a treasure-trove of ephemera collected by Warhol, including letters, invitations, receipts, newspaper cuttings and photographs of The Beatles, Dennis Hopper and Jackie Kennedy
• A room filled with Warhol's helium inflated pillow-shaped 'Silver Clouds'

Almost two decades on from The Hayward's acclaimed exhibition Andy Warhol: A Retrospective (1989), the gallery presents a new take on Warhol's work. Using the moving image as its starting point to explore Warhol's core concerns – voyeurism, celebrity, the mundane, and the blurring of distinctions between high and low culture, the exhibition illustrates his prophetic insight into today's media-obsessed society.

The exhibition installation will be divided into three sections: 'Filmscape' a cinematic landscape showing 19 films; TV-Scape showing simultaneously all 42 episodes from the three TV series Warhol created between 1979 and 1987; and Cosmos providing insight into Warhol's character and work, with paintings, drawings, photographs, audio listening booths, a Brillo Box, album covers, Interview magazines, artists books and Time Capsule 92.

Curated by independent curator, Eva Meyer-Hermann, and housed in an extraordinary setting by the Berlin designers, chezweitz & roseapple, the exhibition is organised by the Stedelijk Museum, Amsterdam, Moderna Museet, Stockholm, and The Andy Warhol Museum, one of the four Carnegie Museums of Pittsburgh. Stephanie Rosenthal, Chief Curator at The Hayward, has collaborated on this presentation of the exhibition. The exhibition began its tour at the Stedelijk Museum last October where it attracted record visitors and was then shown at the Moderna Museet in Stockholm, where Warhol held his first European exhibition in 1968.

Ralph Rugoff, Director of The Hayward, says
"We are delighted to be hosting an exhibition that radically redefines the nature of Andy Warhol's importance. Andy was such a multi-faceted artist that every era can rediscover its own Warhol, and this exhibition offers an innovative and insightful exploration not just of his extraordinary artistic achievement, but also of his pioneering way of looking at both art and the world."

Eva Meyer-Hermann, Curator, says
"Andy Warhol once wondered about how it would be if one mirror would reflect another. He declared that everything which we want to know can be seen on the surfaces of him and his works. I thought I had to look behind these surfaces, but realised that what we are looking for is not behind but in front of them. Warhol's surfaces reflect the world; his works are about you and me."

ANDY WARHOL: OTHER VOICES, OTHER ROOMS
7 October 2008 - 18 January 2009
The Hayward, Southbank Centre, Belvedere Road, London, SE1 8XZ
www.southbankcentre.co.uk/visual-arts
, Information: 0871 663 2519

This exhibition is organized by Stedelijk Museum Amsterdam and Moderna Museet Stockholm in collaboration with The Andy Warhol Museum, one of the four Carnegie Museums of Pittsburgh.
Curator: Eva Meyer-Hermann
Scenography: chezweitz & roseapple, Berlin
With support from Beam Systems
Media partner Time Out

Also on show at The Hayward this autumn will be the first UK exhibition of the South African artist, Robin Rhode (7 October – 7 December 2008).

EVENTS
There will be a number of talks and special events to coincide with the exhibition including:

John Cale
Life along the Borderline: A Tribute to Nico
Plus special guests
Saturday 11 October 2008, Royal Festival Hall, 7.30pm,
John Cale, composer, co-founder of the Velvet Underground and producer of Nico's most renowned albums presents an iconoclastic tribute to his beloved icon. A very special line-up of artists re-imagine her life, work and songs in this one-off event.

LISTINGS INFORMATION
Opening hours for The Hayward:
Open daily 10am-6pm, late night opening Fridays until 10pm.