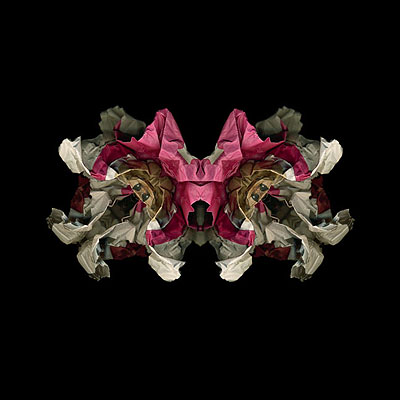 Expositions du 1/10/2008 au 1/11/2008 Terminé
Stills Gallery 36 Gosbell Street, Paddington NSW 2021 Sydney Australie Chris Fortescue is more interested in dismantling the conventions of photographic depiction than partaking in them. In his 2007 exhibition at Stills Gallery Rectified Searches: Road, Chris, Fog, he directed our attention to the genetics of portrait and landscape imagery through reconfigured jpeg files retrieved from the internet using keyword searches. In his latest body of work, naturalism08, he has deployed a baffling array of sharply lit convoluted forms set against deep black backgrounds, which at first glance could be read as organic specimens or digital constructions. Close examination reveals them to be reworked scans of crumpled newsprint & packaging - mediated, rather than generated, by computer.

Naturalism might be described as a cluster of literary and artistic conventions, which arose subsequently, and in response to Romanticism. Eschewing mythological or allegorical subject matter, Naturalism favoured a scientific attention to detail and the significance of the everyday. Photographic practice ably spans the Romantic/ Naturalistic divide, being equally able to establish facts and create fictions. The flat "unnatural" lighting, neutral backgrounds and fine detail of Fortescue's naturalism08 images evoke 19th century botanical illustrations or electron microscope studies of viruses. But at the same time the images work into the stylistic conventions of late 20th century science fiction cinema - the dark vacuum of interstellar space, and the suggestion of alien life forms. With Fortescue's introduced symmetry, the dot screen and rough texture of newsprint are transformed into an odd parody of observable nature.

The images are produced from trash. Newsprint, itself a kind of remnant media species once considered to be a source of truth, is transformed into fiction, words into images, 2D into 3D into 2D, in a process of crumpling and splitting and folding. The combination of randomness and order, which the images embody, becomes a meditation upon the fragility and preciousness and banality of biological reality.

Fortescue's works are held in the collections of the AGNSW, NGV and NGA. During the 90s he worked with room installations, generating interplays between objects, images and sound. He established SOUTH gallery with Simon Barney in 1998. At the end of the century he moved to Vienna, where he worked with the Linz based collective TimesUp on their Dolby Surround Sound Anchortronic project, made online text animations and sound pieces, and collaborated with other artists as a sound designer and web consultant. He currently operates between Vienna and Canberra, where he is completing a PhD at the Australian National University.