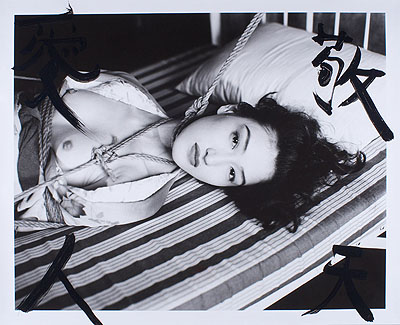 Expositions du 18/9/2008 au 19/10/2008 Terminé
Hamiltons Gallery 13 Carlos Place, W1Y 2EU London Royaume-Uni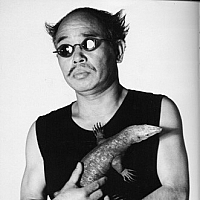 Nobuyoshi Araki's photography has drawn worldwide attention notably for its erotic content, which blurs the lines between art and pornography. Arguably heralded as Japan's foremost contemporary photographer, he is possibly also the most controversial. Hamiltons is proud to present Araki's first solo exhibition in London since his major retrospective at the Barbican Art Gallery in 2005.
Kinbaku, meaning bondage, is the signature motif of this specific body of work, Bokuju Kitan / Marvellous Tales of Black Ink. Traditionally used in pornographic works, bondage is rarely associated with artistic motivation. However, since 1979, Araki has depicted the theme through a creative lens. Although considered provocative, he has interpreted this subject matter with imaginative artistry and his works, undoubtedly thought provoking, evolve in a poetic dimension.

In composing this series, Bokuju Kitan / Marvellous Tales of Black Ink, Araki selected 88 images from his 30 years worth of Kinbaku work and hand-painted calligraphy on each photograph. In these unique, oversized gelatin silver prints, never before exhibited, we witness Araki's imagination running undeterred playing with the varied, lyrical meanings Japanese characters allow whilst seamlessly involving his dark sense of humour.


Born in 1940, Araki belongs to a generation of artists who surfaced in the late sixties whilst Japan was experiencing radical economic growth and urbanisation post recovery from the Second World War. Photography was evolving rapidly both in its traditional guises such as photojournalism and advertising as well as an art. Araki studied photography at college, later working at Dentsu advertising agency where he met his late wife YMko. Having published over 350 books, including Sentimental Journey, Tokyo Lucky Hole, Winter Journey and Shino, Araki is one of the most prolific artists worldwide and his photography has been exhibited internationally in both individual and group exhibitions with works residing in many significant public and private collections.

A book has been published to accompany this exhibition and will be available for sale.