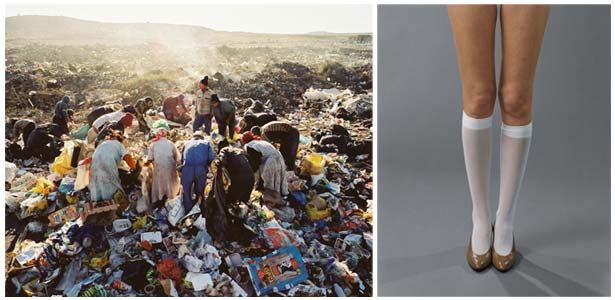 Expositions du 10/9/2008 au 5/1/2009 Terminé

The museum of modern art New York 11 West 53 Street 10019 New York États-Unis


NEW PHOTOGRAPHY 2008 EXHIBITION AT MoMA HIGHLIGHTS WORK BY CONTEMPORARY ARTISTS FROM GERMANY AND SOUTH AFRICA

MoMA presents the 2008 edition of New Photography, an annual fall showcase of significant recent work in photography. This year's exhibition features 11 works by German artist Josephine Meckseper and 20 works by South African artist Mikhael Subotzky.

Josephine Meckseper's photographs and mixed-medium installations on view in the exhibition expose the links between politics and the consumer worlds of fashion and advertising. Her signature installations involve various forms of display—sleek mirrored shelves, chromed glass vitrines—filled with eclectic scraps from consumer society and political culture. Riffing on shop window décor and ethnographic museum displays, these hybrid groupings comment upon the homogeneous culture global capitalism has created and the leveling of differences in consumer society.

In Meckseper's photographic series Blow-Up (2006), models are dressed in 1950s lingerie that is still sold in Manhattan's Lower East Side. These life-size pictures are displayed on a wall covered floor to ceiling in reflective wallpaper (2008) printed with pages from the 1976 German mail-order catalog Quelle International. The home products and clothing offered for sale in Quelle International are those Meckseper grew up with in divided Germany, and they summon the contrasts between the tastes of Western European middle classes and the Eastern Bloc's mass-produced, functional, and uniform fashion, which, the artist says, was "part of a planned economy and not a status symbol." Blow-Up and Quelle International, the artist's 2008 series of photographs based on the catalog, use advertising's semantic codes—posing models, flashy backdrops, and end-of-season sales—to address its persuasive impact and reflect Meckseper's investigation of the ways that political po wer is articulated in a world consumed by appearances.

The history of documentary photography plays a decisive role in Mikhael Subotzky's work. At an early age, the artist was exposed to the activist work of his uncle, Gideon Mendel, one of South Africa's notable "struggle photographers," and he grew up in a milieu of commitment to social democracy. As a student at the University of Cape Town, he was influenced by David Goldblatt's photographs capturing the country's landscape and social fabric during colonialist and postapartheid eras, and by the work of Walker Evans and Joseph Koudelka.

Subotzky's most recent project, Beaufort West (2006–08), premiering in North America in this exhibition, is named after a small town in the Karoo Desert along the busy route between Cape Town and Johannesburg. The Beaufort West Prison, established in 1873, is blatantly visible in the community, oddly situated in a traffic circle in the center of town. Subotzky's images portray life inside and outside the prison, focusing on the disparity between the city's affluent neighborhoods and its fringes that are plagued by endemic poverty. The town's social problems include petty theft, youth prostitution, and a very high rate of unemployment. Taken with a medium-format camera in existing light, the pictures articulate multiple narratives: a preacher leads a prayer session in the Beaufort West Prison; a well-dressed man attends the Agricultural Show, an annual social event for the wealthy; the residents of Vaalkoppies, Beaufort West's garbage dump, scavenge for food; a ninete en-year-old sex worker is fondled by a client in his truck; members of the Ai 26s gang smoke Tik (methamphetamine); a police officer interrogates a suspect who has just been arrested. Subotzky records white domination and black dispossession without relying on politicized reportage. His scenes are at once introspective and direct, reflecting both the individual and the systemic aspects of South Africa's colonialist legacy in the post-apartheid age.

The New Photography series is made possible by JGS, Inc.