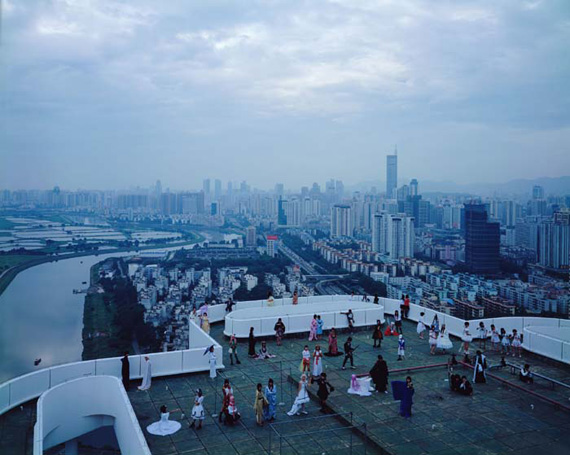 Expositions du 6/9/2008 au 22/10/2008 Terminé

m97 Gallery No. 97 Moganshan Road 2F 200060 Shanghai Chine


m97 Gallery Shanghai is pleased to present "Soul Stealer," an exhibition of photographic works by Zeng Han and Yang Changhong. "Soul Stealer" is a mysterious four-part series of portraits and landscapes, evaluating a theatrical and spiritual connection of modern and traditional role play between characters in ancient Chinese operas and those of global popular culture. The Soul Stealer series are: Part I: "Landplay" (from Anshun, Guizhou Province), Part II: " Cosplay" (Shenzhen), Part III: "Mulian Opera" (Shaoyang, Hunan Province), and Part IV: "World of Warcraft" (Chongqing).
The images from Part I: "Landplay" depict local villagers from Guizhou province acting out traditional characters from the Chinese historical Dixi Opera, meaning Earth Opera or Open-Air Opera. In these traditional performances, local villagers and farmers perform not on stage, but occupy vacant land near a village while the audience watches nearby. Still performed today, Dixi Opera is considered to be one of the oldest operas in the world, and is said to be the "living fossil of opera art". Part III: "Mulian Opera", photographed in Hunan Province, illustrates the characters in this operatic troupe performing the legendary story of Mulian, who journeys through the trials and tribulations of purgatory in order to save his condemned mother. Dating back to the Tang Dynasty, "Mulian Opera" illustrates aspects of ancient society while also incorporating acrobatics and mythological religious lore.

In contrast, Part II: "Cosplay" and Part IV: "World of Warcraft" document the modern versions of costume-based entertainment. Cosplay originated in Japan as a role-play game based on manga and anime characters, while "World of Warcraft" is currently the most popular online virtual role-player fantasy game with some 10 million global online subscribers. As juxtapositions to Parts I and Parts III ("Landplay" and "Mulian Opera") the "Cosplay" and "World of Warcraft" series of photographs are illustrations of modern-day avatars interconnected in a global popular culture beyond a specific time or local tradition. At the same time when viewing all 4 series of characters in role play, we realize there is a timeless desire of these performers to slip out of ordinary existence and embody other identities in a fantastic alternate reality. A direct reference to the book of the same title by sinologist Philip Kuhn, "Soul Stealer" is an invocation to the souls and spirits that come to play in all these timeless performances. It is also perhaps a lament for the erosion of the "soul" of ancient China, whose culture and traditions are left in the hands of the old generations while the young rush to urban metropolises awash in the latest trends of current global popular culture.

By using photography as a portal to another dimension, Zeng and Yang steal a glimpse of the soul of someone from another place and time, while documenting each character's personal transformation. For them, this body of work allows a platform where "time becomes mingled and under such conditions, ancient spirits can gather together from all different times, where the performers in these monumental characters find themselves being transformed into an invented being or spirit of heroic proportions."