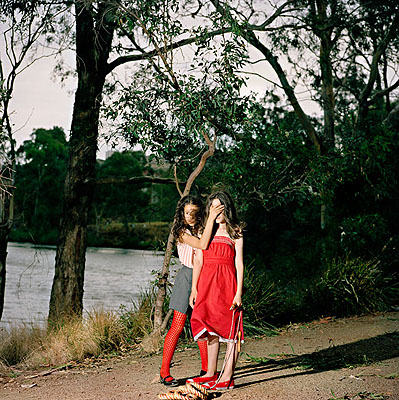 Expositions du 27/8/2008 au 27/9/2008 Terminé
Stills Gallery 36 Gosbell Street, Paddington NSW 2021 Sydney Australie Polixeni Papapetrou

Games of Consequence explores the themes that Papapetrou has consistently explored - the territory of female childhood and maturation. This new work is based on childhood memories of unregimented play. Polixeni Papapetrou recalls the spontaneity and freedom she experienced growing up spending hours playing with friends outside the home discovering worlds beyond her own. In contrast, she feels the generation of her own children has seen their liberty and exposure to the world diminished, perhaps by the lure of the artificial world of the screen and parental anxiety about children playing outside the safety of home.

Capturing the playful and sometimes emotional exchanges of her adolescent models, Papapetrou cinematically portrays a freedom and self-determination that children once experienced. Her images delve into the physical, psychological and emotional aspects of childhood games and practises producing potent scenes. In The Storm two girls dressed in red play hide and seek. The skipping rope recurs representing a tension between two players (in Dights Falls and Rope). In Dreams are Like Water a young girl in a pleated skirt trails the rope against the looming blackness of a river. Often the sole protagonist is a female child, however elsewhere several children are depicted in a drama suggesting both the idyllic and shadowy aspects of growing up (The Fall).

The ever-present backdrop to these dramas is the landscape of rural Australia. Its constant presence becomes a powerful visual metaphor. Symbolically, it represents a space without constraints, where children must test and define their individuality. Miles From Nowhere features a young woman lying in repose on a plastic banana chair, wearing a pink and white gingham summer dress. Behind her on the parched red earth of the outback is a small white aircraft. There is a maturity in the young woman's gaze which speaks of an encroaching worldliness not present in the other images.

Games of Consequence was exhibited together with Haunted Country (2006) at the National Arts Centre, Tokyo in the exhibition Artist File 2008 in the first half of 2008. The exhibition featured the work of eight contemporary international artists. Papapetrou's work is widely exhibited nationally and internationally.