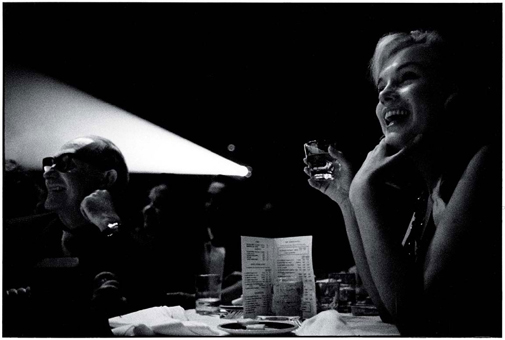 Expositions du 11/9/2008 au 31/10/2008 Terminé
Polar+NKA photography 108 ch de charleroi – first floor 1060 Bruxelles Belgique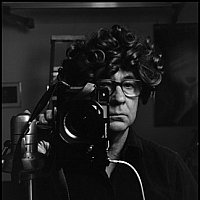 "Elliott has to my mind achieved a miracle working on a chain-gang of commercial campaigns and still offering a bouquet of stolen photos with a flavor, a smile from his deeper self.
" Henri Cartier-Bresson

POLAR+NKA* photography opens an important exhibit titled UNSEEN by internationally renowned photographer Elliott Erwitt, with an opening reception on SEPTEMBER 11th to OCTOBER 31th Erwitt's photographs of ordinary life, beach scenes, celebrities, children and dogs have delighted viewers for decades. At age 78 he has culled through sixty years of work and chosen what he considers to be his very best photographs. Many have never been published before. These ebullient images reflect the vast scope of the wittiest photographer of our time. POLAR+NKA* photography will have approximately 40 of Erwitt's classic photographs representing many phases of his long career.

ELIOTT ERWITT
Elliott Erwitt (1928 à Paris - ) est un photographe américain, né de parents russes.
Il a passé dix ans de son enfance en Europe notamment en Italie, Allemagne et France avant que ses parents n'émigrent aux États-Unis, à New York puis à Los Angeles.
Robert Capa sera l'un des premiers à le remarquer et à l'inviter à devenir membre de l'agence Magnum. Agence qu'il présidera quelques années plus tard.
Il a photographié l'Europe et les États-Unis, les enfants et les chiens, les stars avec un humour satirique. Il a également produit de nombreuses émissions télés comiques.
« Faire rire les gens est une des plus parfaites réussites qu'on puisse espérer » dit-il.

Dans un parcours d'environ quarante images, l'exposition "Seen & Unseen" fait découvrir des oeuvres inédites du photographe américain Elliott Erwitt. Ce sont des images pleines d'esprit:
aussi bien la découverte du caractère humain à travers les chiens que de simples portraits acérés et inoubliables. C'est un Erwitt des solitudes urbaines, de la féminité intense et parfumée, des petits gestes et des petits sentiments qui nous livre des instants de la vie telle qu'ils sont.En dialogue avec des images jamais publiées et découvertes par le photographe récemment, une sélection parmi les grands classiques d'Elliott Erwitt permet de déguster les images plus connues de ce photographe. Membre de l'agence Magnum Photos depuis 1953 et aimé dans le monde entier pour l'ironie de son regard, Elliott Erwitt est né à Paris en 1928. Son intérêt pour la photographie remonte à son adolescence à New York, où sa familles s'était installée. Il y travaille professionnellement à partir de la fin des années 40.
Pendant plus de cinquante ans, Elliott Erwitt a publié des livres et exposé son travail dans les galeries et musées du monde entier, parmi lesquels le MoMA à New York, la Smithsonian Institution, l'Art Institute of Chicago, le Musée d'Art Moderne à Paris et le Kunsthaus de Zurich. Elliott Erwitt vit et travaille à New York.

Erwitt's superb sense of humor coupled with a deceptively casual photographic technique inspired the eminent photography critic, John Szarkowski, to remark that Erwitt is "one of the few photographers whose work is also identified by extraordinary wit." Traveling around the world on magazine assignments, Erwitt always found time to take the wry and timeless photographs of ordinary people and dogs that have made him famous. His photographs of Hollywood legends like Marlene Dietrich and Marilyn Monroe, and political figures like Nikita Khrushchev and Richard Nixon are equally penetrating and insightful.
According to writer, Sean Callahan, survival seems to be built into Erwitt's nature, along with the ability "to be an astute observer of others, highly sensitive to the vicissitudes of life and, when necessary, utterly charming and disarming." Erwitt was born in Paris in 1928, the only child of displaced Russian parents who raised him in Milan. When he was 11 the family fled Europe on the last boat out of free France. For several years he and his parents lived in New York City before moving to California. At age 16, after his parents split up, Erwitt was on his own in Los Angeles, attending Hollywood High while living in a rented bungalow with friends. After Edward Steichen arranged his first commercial job he established himself in New York the 40s and 50s as a leading magazine photographer. His friendship with Robert Capa resulted in his joining the prestigious Magnum Agency in 1953 after he got out of the army.
In his long and successful career as a magazine and advertising photographer Erwitt has used an arsenal of cameras. But the images he shot for himself were usually made with a classic Leica rangefinder and in black and white. He has remarked, "The most important advice to photographers is f:8 and be there." In his most poetic images something wordless and magical happens in a fleeting instant. In Orleans, France, 1952 Erwitt snapped the shutter just as a pigeon fluttered down to a deserted cobblestone street illuminated by a triangular shaft of sunlight.
Erwitt has shot annual reports of Fortune 500 companies, worked on six-figure advertising campaigns for Madison Avenue, and on breaking news for Paris Match. An assignment shooting women's shoes inspired him to take a closer look at dogs as subjects. New York City, 1974, one of Erwitt's most famous photographs, was taken with the camera near sidewalk level of a bug-eyed, rat-sized dog dressed in a knitted sweater and hat standing next to two gigantic pairs of legs, one wearing boots, the other belonging to another dog. The humor lies in the somewhat idiotic expression of the tiny dog which suggests it is the dwarfed product of a canine/human marriage.
In Erwitt's classic image, California, 1955, the reflection of a couple kissing in a parked car's side mirror is like a joyful bubble against a Pacific ocean sunset.

In 1960, on the set of the movie "The Misfits, " Erwitt photographed a team that included Marilyn Monroe, Clark Gable, Montgomery Clift, Arthur Miller, John Huston, and Eli Wallach. The cast looks a little haggard, and even Monroe struggles to play her diva role. It was the last film either Gable or Monroe would make before their deaths. Erwitt said of Monroe, "Physically she was surprisingly unattractive; the beauty was manufactured. But she was extremely intelligent and sensitive. And likeable."
In 2006 several touring exhibitions of Erwitt's photographs were shown at New York's International Center for Photography, in Paris, at Japan's Mitsukoshi, and in Barcelona, Spain. Additionally, a major exhibition in Australia is being planned. His photographs have been collected and exhibited at museums including the Museum of Modern Art, New York, the Smithsonian Institution, the Art Institute of Chicago, the Museum of Modern Art in Paris, and the Kunsthaus in Zurich. His photographic books include the comprehensive monograph Personal Exposures/Elliott Erwitt (Norton, 1988); On the Beach (Norton, 1991), and Elliott Erwitt: To the Dogs (Norton, 1992). Elliot Erwitt currently lives in New York City.