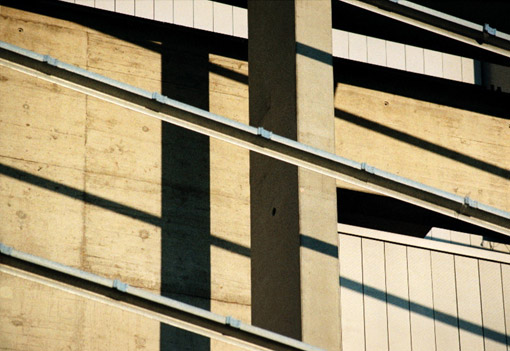 @ Sabine Richter, rondo I,2008, 50x70cm C-print, Aluibond, Acrylglas
Sabine Richter is a photographer and a sculpturer, focussing on the interaction of light and architecture. This photographic work concerns with the interplay of layers, dimensions and the co-existence of different forms. There are various of mirroring and reflections, making it difficult to find the boundary of interior and exierior space. In her photographic research Richter refers to existing situations discovered in architecture, disclosing a special constellations, pointing beyond the reality of the material and objects, leading to a different way of three-dimensional interpretion.

In the series of photographs screen, the surface of the new building of Institute of Plantology Graz, becomes the main issue, showing the wandering reflections on a vitreous wing of this building. Colours and shapes of the reflections trace back to different characters of materials and the architecture is reproduced once again on its' own surface. Where is in Platon's Cave shadows of objects are generating images, here the light alone is showing its' abibility to creat forms by means reflections.
A series of 250 photographs, taken on February 25th from 13:16 till 15:34, as a slideshow, half a year later projected just onto the same place, where it was first seen in winter, so the signifier becomes the subject of the screening itself.

Sabine Richter (born 1959) studied at the Academie of Fine Art in Nuremberg.Working as artist-in-residence of Instyria Kultur Sevice 2008, she is concentrating on contemporary architecture in Graz.