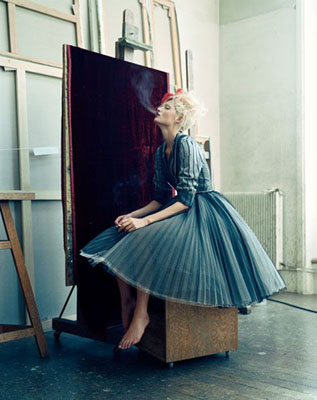 Expositions du 14/6/2008 au 26/7/2008 Terminé
Camera Work Gallery Kantstraße 149 10623 Berlin Allemagne Gallery CAMERA WORK in Berlin presents from June 14th to July 26th photographs by Ralph Mecke. Born in Berlin and today living in Paris and New York, Mecke is a young master of fashion photography. He achieved his breakthrough in 1998 with the publication of portraits of intellectuals and icons in French Vogue. Today the spectrum of Mecke`s portraits ranges from personalities such as Giorgio Armani or Keira Knightley to German artist Jonathan Meese. After he discovered his interest in fashion photography it became his main focus. His fashion stories can be found in magazines such as Harper's Bazaar, Vanity Fair, Vogue and GQ. Mecke interprets fashion in a way that clearly shows the underlying gloomy essence beneath the beautiful surface. The portraits, fashion photos and still lives presented at CAMERA WORK are all created between 1995 and 2008 reveal both, emotion and beauty as well as mysterious, dark realities.

While working, it is important for Mecke to give priority to his feeling of direct impression. "Real beauty," as he says, "is if something unexpected happens, giving brute emotional power to the picture." The artist is also a perfectionist when it comes to the final product. All effects for the photos are created in the studio - without any digital manipulation.

A selection of the colour photos presented in the exhibition has been produced by the use of the special dye transfer process. Because of the richness of tonal value, the colour depth and the brilliance achieved by the process, dye transfer is of paramount importance in the area of photographic printing technology. Collectors also appreciate it very much due to its light resistance and archival stability. Unfortunately, this process is regarded as almost extinct today.