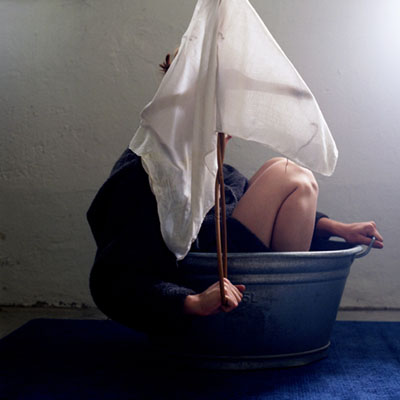 Expositions du 12/7/2008 au 18/8/2008 Terminé

PIEROGI Brooklyn Leipzig Leipzig: Spinnereistr. 7/PF514, Halle 10 04179 Leipzig Allemagne


The sun shone, having no alternative, on the nothing new.
Die Sonne schien, da sie keine Wahl hatte, auf nichts Neues
Samuel Beckett, Murphy, 1938

PIEROGI Leipzig is pleased to present three new solo exhibitions by artists Nadja Bournonville (* 1983), Lutz-Rainer Müller (* 1977) and Declan Clarke (* 1974). With photography, drawing, sculptures and film all three artists, in their own way, deal with personal stories that have been caught up in grander narratives. The artists will be present for the opening.

Nadja Bournonville
In Galerie 1, Nadja Bournonville, One for every wish.

In her first solo exhibition Nadja Bournonville presents the beginning of a project in three parts. Part one: One for every wish consists of analogue photography, text based drawings on paper and a slide show. In this, she tries to build worlds that tell stories about her own personal and other's narratives. She sets out to test the limitation of life through transparent but elaborate body of work The second part will be shown at PIEROGI Brooklyn in 2009.

The initial starting point for the project was a small wooden ship. It bore a similarity to the wooden schooner Lefteria, that set sail in 1972 from the coast of Great Britain to Spain when it was hit by a French weather ship and sank. Bournonville's uncle,Magnus, went down with it.

According to Bournonville, this "...held the story I was looking for. It underlies them all, I guess it is not always necessary to know exactly where the stories originate from, everyone has their own and they are never that different, a shipwreck, lost love, accidents, failed dreams and a lot of hope...".
They all share in common the fact that they could just as well have been realized as a film, a book, poem or even, if you like, a painting. There is a timeless aspect to them in that they tell a story, but the imagery being used for telling these stories isn't only personal and thus open for interpretation and multiple understandings of the work.

All the images, which Bournonville thinks of as stages, sets, or even small rooms, originate from a specific story. An example is the photograph Keeping all my ships in the harbour, 2008, which shows a concrete wall where torn-off wall paper bears resemblence to a world map, attached to the wall are bark boats and beneath them two extended arms and the back head of a young woman. Bournonville states that this referances Virgina Woolf who admired a friend of hers for her ability to set sail out into the world while she herself kept all her ships in the harbour.

The handwritten text pieces are more personal in their initial creation. Here Bournonville writes about pressing issues more directly and without the possibility of editing as she goes along. A good example is Dear; Things as they are, letter to self, 2008, a 100 x 80 cm large ink on paper, which was sparked by the artist moving countries and after a few months of not being able to speak the language she began writing on one big piece of paper, about everything. How things has been, how they should or could have been, how they will, should or could develop. For an artist that works so close to her own past and memories one could claim that her whole development as an artist is embedded as a theory of everything in this text.

One for every wish is a mosaic whose part and whose whole are one in the same thing...and you had better not, so to speak, miss both the forest and the trees; and you better not worry about mixed metaphors along the way.

The exhibition is accompanied by an exhibition catalogue.

Nadja Bournonville (*1983) received her formal training at the Glasgow School of Art. She has shown at the Hasselblad Foundation in Gothenburg, 2007 and is currently part of the Leipzig International Art Programme Studio Residency. During the summer of 2008 she will be in group exhibitions at PIEROGI Brooklyn, Brooklyn, Galerie Gabriel Rolt, Amsterdam and Daniel Weinberg Gallery, Los Angeles. Her next solo show will be at PIEROGI Brooklyn in 2009. She currently lives in Leipzig.

Lutz-Rainer Müller
In Galerie 2, Lutz-Rainer Horst Müller and his Maximal Speed is a State of Rest represents his second project developed for the gallery.

Lutz-Rainer Müller has again set up an elaborate project. True to his own tradition, the exhibition space operates as a stage, a site for action and contemplation rather then a display site for already finished and closed thoughts. In this way, Müller references what Brian O'Doherty describes in his book Studio and Cube (2007) that the cube (the exhibition space) is a "frame or window between the inside, the artist's private sphere, and the outside, the public".

Müller`s exhibition plays out in four acts, overlapping and reflecting a great interest for the superfluous, the irrational or Dadaistic if one likes. They are all about bringing something back, either in reality or metaphorically - and they are all based on different historical and literary figures.

The first act is Murphy, based on Samuel Beckett`s 1938 novel of the same name. Murphy finds his moment of zen being tied up, naked, in his rocking-chair, appeasing his body. The protoganist operates as a lone figure, resisting the presence of a world outside of his own.
This fascination with "doing nothing" as a state of production has spawned several ideas and project proposals for the show, most of which will never see the light of day.

The second act, Sarah`s smile is based on the myths around the "Divine Sarah Bernhardt". Feted to be the best actress in the history of the world in her heyday (in the early 20th century) for theatre, Bernhardt played almost exclusively male parts. And so it was impossibile to ever capture her performance or, even, to see her smile. This reflects the inherent impossibility within all of Müller's works.

Another idea that will be delt with in Müllers works is the notion of our world lacking both a single truth transcending its respective contexts as well as one might be inferred. Any statements, expectations and meanings are therefore provisional. A flying hat refers to Hans Richter's Ghost before breakfast (vormittagsspuk), 1929. The oversized hat (made in copper) will hover within the space, fall down (in slow motion) any give time and might even end up in a nearby lake.

The fourth (and possibly the last) act of Müller`s project, is that of a retrieval. Müller is currently in Amsterdam where he has located the canal that Bas Jan Ader cycled into in his piece FALL II, 1970. Müller is there to fish up as many bikes as possible to transport back to Leipzig for the show. This action operates as a false archaeology, a symbolic action that wants to pay its respect to the past as well as the future. It also resonates with his long term project with Jan Freuchen (Objet Perdu), last shown in Pierogi last year.

This is possibly the first exhibition by Müller that shows the multiple layers of his interests and telling various stories at once in an attempt to generate narratives. He dwells on the impossible as in his search for Bas Jan Ader's bike in the canal and in contemplating the smile of Sarah Bernhardt. Also his profound interest in escapism and solipsism are expressed very clearly here. The show will not only have newer works but parts of elder works will be shown. There will be a signed and numbered limited edition catalogue available.


Lutz-Rainer Müller (*1977) studied at the Muthesius Kunsthochschule, Kiel, and at the Academy of Fine Arts, Bergen and Oslo. Recent projects involve solo exhibitions at Fotogalleriet, Oslo and at the National Museum of Art, Architecture and Design, Oslo. Forthcoming projects include a three part solo exhibition in collaboration with Stian Ådlandsvik in Hamburg this fall. The artist lives in Leipzig.
Declan Clarke

In the video room shows for the first time his new work entitled Nothing Human is Alien to Me.
Declan Clarke repeatedly shows an interest in history and politics and the manner in which they impress themselves on everyday life. In former films he has analyzed the difference and similarities of the process of history, interweaving personal and historical trajectories. In an earlier work he recounts in a clear cut and calmed manner the correlation between the life and work of socialist Rosa Luxemburg and how his interest in her legacy has spilled into his own life. Proposing that Rosa Luxemburg would be a great name for his future child; the absurdity of such presumptious commemoration is recounted through his failures to maintain the circumstances in his personal life that would lead to such an outcome. Mine Are of Trouble, 2006, has been his entrance point into German history.

His latest work, Nothing Human is Alien to Me (the favorite maxim of Karl Marx), this interest is developed further. According to Clarke he became interested in the processs of erasing the past as a part of the grand plan of the "Aufbau Ost" (Build-up East) which has as its aim to equalize the standards, both in industry and socially between the West and East of Germany. Re-development, for some reason, tends to tear down the past, or as the artist recounts:" I was interested in the former 'Death Strip' or 'No Man's Land' that existed on the Eastern side of the Berlin Wall. While the wall was deconstructed and used mainly for road building, the site of the wall and the strip was left largely vacant until recently, when property developers have started to reclaim the area. I became interested in depictions of the Cold War both current and past and how this complex political stand-off was represented and was specifically drawn to John Le Carre's The Spy Who Came in from the Cold and its subsequent filmed adaptation by Martin Ritt. This book was possibly the first mainstream western account of the Cold War that depicted both sides as duplicitous and largely detached from the ideological positions they outwardly maintained."

The video depicts the present using B&W 16 mm film stock, while the past is represented using digitally fimed footage of personal, found or archive colour footage and images. According to the artist: "By using an outmoded means of recording to portray the contemporary settings and the most contemporary means of presenting the historical settings, the intention is to consider the complexities of depicting intricate and multi-layered political conflicts. A common assumption is that history becomes clarified through the benefit of hindsight. Nonetheless, each generation re-writes the past according to, and as a means of justifying, the ideological standing and viewpoints of the time. As countless reappraisals of the 20th Century are published each month perhaps we are less equipped to clearly evaluate the situation now than 50 years ago when the political landscape had roots that are no longer present in the 21st Century."

Nothing Human is Alien to Me not only mirrors the quote its title refers to, it also tries to consider the problem of re-defining the past, and highlights the developments and gentrification processes that are instigated by state officials and private property developers alike. Keen to erase the past through reconstruction, these sites become re-politicized yet retain the haunted presence of their past history. The film poetically considers the complex structures that are put in motion in order to spark an economy and contrasts this with the physical space we ply our lives through.

Declan Clarke was born in 1974 and studied at the National College of Art and Design (N.C.A.D.), Dublin, and Chelsea College of Art, London. In 2000 he was one of the recipients of the Saatchi Fellowship and in 2002 participated in the International Studio Programme at PS1 MOMA, New York. Recent exhibitions include; 2nd Moscow Bienniale, Moscow, Four Gallery, Dublin, Art Now, Tate Britain, London and the Swiss Institute, New York. He has recently, in collaboration with Paul McDevitt, guest-edited Printed Project Issue 9 entitled The Call of the Wild is now a Cry for Help. Clarke lives and reads in Dublin, London and Berlin.