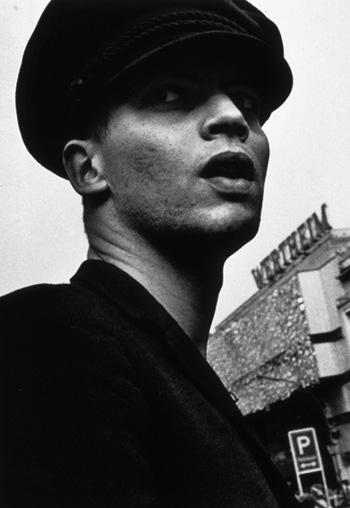 Expositions du 16/7/2008 au 6/9/2008 Terminé
Cohen Amador Gallery 41 E 57 Street 6 Fl NY 10022 New York États-Unis
The Cohen Amador Gallery is pleased to announce its summer group exhibition, "Original Books," a selection of black and white photographs from Morten Andersen, Jens Liebchen, Keizo Kitajima, Gabriele Basilico, and John Gossage, five prominent, contemporary photographers from five different countries. Culled from unique photo-book projects, the styles and subject matter of each series varies dramatically; however by using the format of the photo-book as an art tool each photographer has come to fully articulate their ideas visually.

Norwegian photographer Morten Andersen and German photographer Jens Liebchen have taken a conceptual approach in their projects. In photographs from Days of Night, Andersen assembles a furtive, noirish series, which constructs a tense and emotionally heightened, fictional cityscape. Though photos of ever yday life in Japan and New York, Andersen utilizes photographic conventions to create a universal sense of drama and tension. Even more critically and conceptually eng aged in photog raphy's visual histor y, Liebchen explicitly demonstrates the manipulative characteristic of photog raphy in his book DL 07 Stereotypes of War. Images of helicopters, men with guns, abandoned buildings and smoke-filled skylines illustrate what appears to be a besieg ed city. Yet all the photos were taken in Tirana, Albania during a time of peace, thereby inver ting assumptions about the themes of war and peace through the conventions of traditional, documentar y war photography and challenging the viewer's willingness to accept visual clichés as signifiers of identity.

The stunning street photography in A.D. 1991 by Japanese photographer Keizo Kitajima compliments the conceptual projects of Morten and Liebchen by focusing on the individual in urban society at the end of the 1980s. Renown for his energized technique in documenting the sub-culture of 1980s New York and Tokyo, Kitajima refashions his sexy, nonchalant style to the purpose of portraying the anguish of a globalizing society at the end of the Cold War. Exhibited are the portraits from this series, whose graininess underscores the strong visual characteristics of the photographed subjects. Whereas contrast served to amplify ambiguity in Morten's work, here it underscores the force of society upon the individual. Kitajima's unyielding, individualized documentation contrasts with Italian photographer Gabriele Basilico's broader and more purely documentary look at coastal towns and landscapes of northern France. Bord de Mer: The DATAR Project is the book of Basilico's work for the Mission Photographique de la DATAR, a French regional planning authority whose mandate is to investigate the "geog raphic identity and regional chang e" of these coastal regions. Taking the opposite approach from Kitajima, Basilico uses distance as a way of highlighting the tranquil and sometimes melancholic identity of these areas, using masterful print techniques to encapsulate the visual character of these diminishing coastal communities. American photographer John Gossage completes the exhibition. Like Basilico, the photographs from Gossage's book, There and Gone, often focus on the sea. However, Gossage uses these settings as a means of blurring boundaries and borders rather than attempting to define them. His dark, grainy and often jarring close-ups limit the viewer's ability to read into the identity of the subjects por trayed and their locations. Gossage further complicates the photograph's legibility by adding words and intentional marks onto the photo matte thereby creating unique ar tworks and altering photography-lauded for its re producibility-into an object of strengthened individuality with a unique identity of its own.