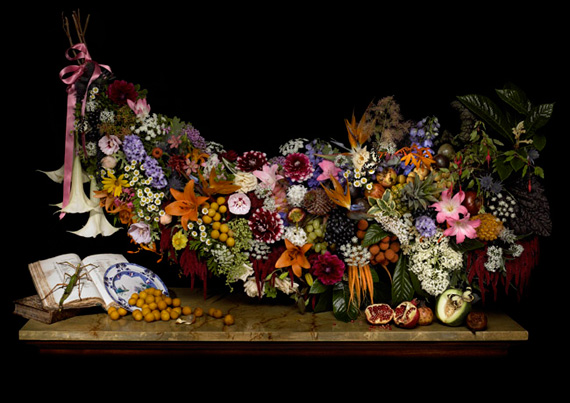 Expositions du 23/7/2008 au 24/8/2008 Terminé
Stills Gallery 36 Gosbell Street, Paddington NSW 2021 Sydney Australie Robyn Stacey
Robyn Stacey's startling image Mr Macleay's Fruit and Flora, seems at first glance to be a digital construct, it comprises such a baffling array of fruits and flowers. Yet there is an historical foundation underpinning this luscious assemblage. Stacey's large-scale photograph re-creates the lost botanic gardens of Elizabeth Bay House, once world famous not only for the Australian natives but for the exotics imported from China, India, South America and the Cape of Good Hope. All the plants featured in this photograph are nineteenth century varieties that would have been seen in the grounds at that time. Sadly the gardens no longer exist and the only record is the original plant list kept by Alexander Macleay, documenting all the plants he imported.

The suite of three works in Stacey's The Great and the Good, are all created around Elizabeth Bay House, which was built by Alexander Macleay when he arrived as Colonial Secretary to NSW in 1826. The painstakingly constructed photographs reference historical painting and artefacts but use contemporary production techniques. They are technical and aesthetic marvels. Miss Eliza Wentworth's Glassware, for example, contrasts the organic floral content of the other two works, presenting instead a crisp bouquet of crystal glass. The shards of light reflecting from the silvery surfaces create an almost tangible quality, as if the weighty yet delicate nature of the glasses threatens a regrettable breakage. This faux photo-realist painting, is therefore truly an expression of light and its multifarious illusions.

As in previous series, Robyn Stacey's artwork explores ideas about history; how the present is shaped by the past. Through her images, she gives us access to important historical collections, demonstrating how photo-technologies can often enable us to see what we could not otherwise. Combining the visual languages of traditional still-life painting and of contemporary art Stacey plays with the viewer's perception. Museological material and analogue techniques create works so unfamiliar to us that we assume they must be digital constructs, when in fact they are not. Her earlier Beau Monde series of butterfly and beetle encrusted balls, for example, involved laboriously pinning precious specimens from the Macleay insect collection onto a black velvet ball.

Robyn Stacey has exhibited widely in Australia and internationally since the mid 1980s. Her works are held in the collections of Artbank, National Gallery of Australia, National Portrait Gallery, Art Gallery of New South Wales, Art Gallery of Western Australia, National Gallery of Victoria and Queensland Art Gallery, as well as numerous university, corporate and private collections. This exhibition is a pre-cursor for a larger exhibition in 2009 around the collections of the NSW Historic Houses Trust.



Christine Cornish
" In order for us to be authentically human we have to value the central role the poetic plays in our lives and, significantly for Cornish's deftly crafted, ambiguous and powerful photographs, be willing to stop, observe, hear, listen to and remember all that surrounds us from earth to sky."
John Conomos 2004

STRETTO, from the Latin to draw close, is Christine Cornish's latest body of work. In keeping with earlier works, Cornish has created simple yet profound compositions that are also philosophical in intent.

In STRETTO Cornish uses a precise series of moss-green shapes and lines set against dark russet grounds. There is an exquisite balance in the shape, tone and structure of her works that evokes an almost haiku meditation on space and depth, on interconnectedness and lines of thought. STRETTO is an apt title. The simple yet sophisticated arrangements contain elements which draw close to each other, emphasising the negative spaces as much as the positive. At the same time the modest scale and subtlety of the works require the viewer to draw close, asking of them space and time.

Cornish's visual tones are much like musical tones, subtle and unfolding. Echoing the interpretation from sheet music to actual performance, Cornish's works function like maps to an experience or a way of thinking. The muted palette of green and brown suggests Nature, but the landscape Cornish describes is also in the realm of the mind exploring a layered and mysterious underworld that is embedded in consciousness. Her images ask us to go beyond the surface of the image in order to find meaning.

Christine Cornish has taught Photography at the National Art School in Sydney since 1988. She has exhibited regularly in solo and group shows since 1978. Her work is held in many collections including those at the Art Gallery of NSW, Australian National Gallery, National Gallery of Victoria, Griffith Artworks and Artbank. This is Christine's third solo show at Stills Gallery.