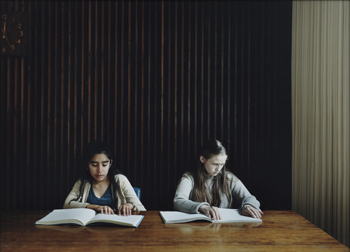 Expositions du 27/4/2008 au 15/6/2008 Terminé
Kunstverein in Hamburg Klosterwall 23 20095 Hamburg Allemagne Kunstverein in Hamburg is pleased to present a major exhibition of the work of the American artist Sharon Lockhart. This exhibition continues the Kunstverein's series of wide-ranging solo exhibitions of outstanding artists who work predominantly in the media of film and photography, including Yael Bartana, Willie Doherty, Andrea Fraser, Mark Lewis, Paul McCarthy, and others. The exhibition is accompanied by a catalogue published by DuMont Verlag with essays by Diedrich Diederichsen, Yilmaz Dziewior and Mark Godfrey.

Born in 1964, Lockhart lives in Los Angeles. She is best known for producing works in series, often consisting of both photographs and films, that she develops slowly over time, often after substantial research. The earliest work in the exhibition is Audition (1994), a series of 5 color photographs. Resembling film stills, these photographs show pairs of children reenacting the "first kiss" scene from François Truffaut's film L'argent de poche (Small Change). This work explores a host of issues that Lockhart would develop further in subsequent works, including her interest in the tensions between photography and film, documentary and art, analytical distance and subjective empathy, socially engaged subject matter and rigorously conceptual form, and the transitional period between childhood and adulthood.

The exhibition continues with works from the late 1990s and 2000s that Lockhart shot in museums. These include Enrique Nava Enedina: Oaxacan Exhibit Hall, National Museum of Anthropology, Mexico City 1999 (1999), a series of photographs focusing on sculptures by the artist Duane Hanson (2003), and a group of photographs picturing an art conservator attempting to re-create the process by which the artist Morris Louis Art created his famous Color Field paintings. These works explore the space of a museum as a site where cultural meaning is produced, the differences between photographic and other modes of representation, and the nature of work.

The exhibition also includes a film and series of photographs that Lockhart produced in Japan based on her interest in the cultural phenomenon of NO-no Ikebana. A working-class response to an academicized art form, NO-no Ikebana is a radical genre of flower arranging in which the artist draws inspiration from vegetables and other items grown on farms—a medium that farmers could practice because they grew the materials. In the film NO (2003), two farmers spread hay across an otherwise empty field, creating what resembles a landscape painting in real time. The related photographic series NO-no Ikebana (2003) consists of 19 photographs divided into 4 groupings depicting the life cycle of an arrangement of brussel sprouts over the course of one month.

One of Lockhart's most recent series, Pine Flat (2005), is featured in the exhibition in depth. Consisting of a film and a series of photographs, these works developed from her multi-year collaboration with a small community in California's Sierra Nevada Mountains. The film is presented as a feature-length film consisting of 12 10-minute segments, which is screened theatrically, and a film installation, which is presented in the museum. In the museum, the film is broken down into its segments, which are shown as individual loops over a period of days. Shot in a portrait studio the artist set up in the community, the photographs feature portraits of the children with whom she worked. She encouraged the children to act within the studio's stark theatrical setting, giving them space to create individual personae for
the camera.

Lockhart's works have been presented in major solo exhibitions at museums including the Walker Art Center in Minneapolis, the Museum of Contemporary Art in Chicago, and the Museum Boijmans van Beuningen in Rotterdam, and Kunsthalle in Zurich, as well as in renowned international film festivals in New York and Berlin.