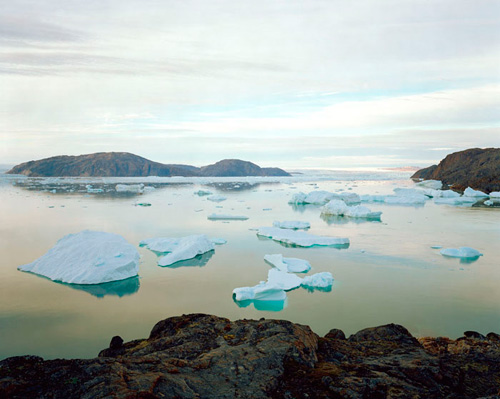 Expositions du 4/4/2008 au 24/5/2008 Terminé
Galerie f5,6 Ludwigstr. 7 Odeonsplatz 80539 Munich Allemagne Galerie f5,6 is proud to announce an exhibition with internationally renowned German photographer Olaf Otto Becker (born 1959, Travemünde, Germany). The works are from his new series Broken Line, (published by Hatje Cantz). This publication was awarded with the German Photo book prize 2008.

Between 2003 and 2006 Olaf Otto Becker travelled almost 4000 km along the West Coast of Greenland on his own, in a small dingy. The sole purpose of his trip was to portray this coastal region with his 8 x 10 inch large format camera. Olaf Otto Becker reached the 75th Northern degree latitude of Melville Bay in his little boat. Similar to a 19th Century painter Becker portrayed the landscape, accentuating its silence, melancholy and the sublime of a land known only to few. Similar to an explorer, Becker's work is pervaded by the desire to find that which lies beyond the merely visible outer layer.

Each image has precise GPS data attached to it: seconds and minute degrees, similar to a scientific experimental set-up. Olaf Otto Becker's Ice landscapes of Greenland are documents of a quickly changing landscape where the traces and effects of climate change are becoming painfully visible.

Olaf Otto Becker works in cohesive series yet he is concurrently interested in the single image .

"I am interested in light and landscapes with water, the primeval landscape." (Olaf Otto Becker)

Becker often waited for days at one spot until there was the right light. He photographed primarily during midsummer. During this very special time in mid June there are no shadows and the tonalities of the surroundings is rendered in its greatest subtlety.


Olaf Otto Becker's work reflects the perfect synthesis between scientific and artistic practice. Often considered as contrary positions in our society , they are both seeking the same thing: the desire to uncover that which lies beyond the visible.

Becker has exhibited widely throughout institutions and galleries in Europe and the US. His first publication Under the Nordic Light (published by Schaden) was nominated for the renowned Recontres D'Arles Book award. Broken Line (published by Hatje Cantz with an introduction by Gerry Badger) was awarded with the 2008 German Photo book Prize.