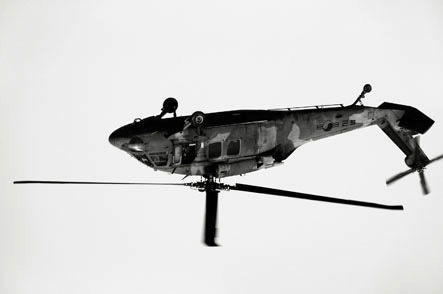 NOH Suntag, Black Hook Down, Photo series, 2006
Expositions du 1/3/2008 au 18/5/2008 Terminé
Württembergischer Kunstverein Stuttgart Schlossplatz 2, 70173 Stuttgart Fon: +49 (0)711 - 22 33 721 Fax: +49 (0)711 - 29 36 17 http://www.wkv-stuttgart.de/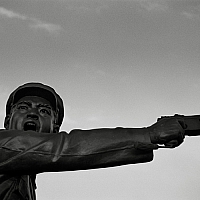 From March 1 to May 18, 2008, Württembergischer Kunstverein in Stuttgart is presenting the first comprehensive solo exhibition of the South Korean photo artist NOH Suntag in Europe. The show will feature about 200 photographs. NOH, born in Seoul in 1971, ranks among the most advanced photo artists in South Korea, his works having attracted great attention there in recent years. Among other shows, he took part in the Gwangju Biennale in 2006. The exhibition showcases works from between 2000 and 2007.

His series, which he usually develops over the course of several years and that consist of black-and-white as well as colour photos, observe conflict situations in contemporary Korean society. These conflicts go back to the division and war between North and South Korea, to the dictatorships in both parts of the country (in the South until 1987), and - in South Korea - to rampant turbo-capitalism since the 1990s. The picture that NOH draws of Korea is that of a constant state of emergency.

NOH, who creates his photographs in North and South Korea, is interested in the ambivalences and breaks within and between the two societies: their mirror relationship, the military presence and ideological extremes on both sides, the relationship between the individual and the masses, or the situations - both subtle and openly violent - that pervade everyday life in the South and the North alike.

This ambivalence is reflected in NOH's very individual aesthetic, that combines the documentary with the fictitious, the snapshot with stringent composition. The harsh contrasts amplify the drama of the mostly conflict-laden situations that he depicts - a drama that is, at the same time, countermanded by the sobriety and detachment of his gaze. As a result of being integrated in series, the perfection of the single picture must be seen in perspective. Far removed from the aesthetics and strategies of staged photography, they nevertheless appear posed. They remind us of film scenes or apply aesthetics of fashion photography as well as traditions of pathos-laden landscape photography. It is precisely this unclassifiable, contradictory aspect that distinguishes NOH's photographs.