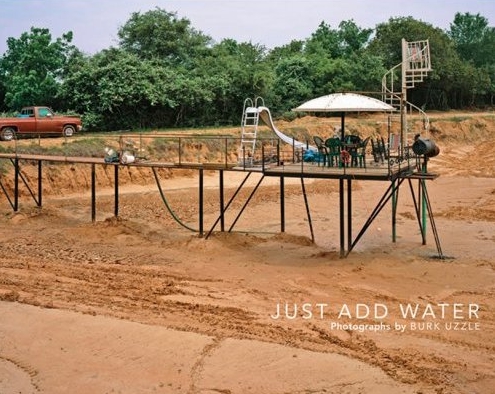 A self-described "hard puppy to keep under the porch," photographer Burk Uzzle created the images in Just Add Water by traveling across the United States with his 8 x 10 camera, capturing the vivid, celebratory, sometimes eccentric personality of the American landscape in the unique style that has become his trademark. This large-format book marks Uzzle's first major published series of color photographs.
Burk Uzzle, on the photographs in this book: "In most of these pictures I am exulting in America's personality out on a limb with itself. That teeter-totter balance between logic and humor as the limb seems about to break also relates to how I strive for formally impeccable compositions but then have some loose lug nut rattling around somewhere in the frame, giving a subversive aspect to the dialogue between graphics and content. It's as if America and I try so hard to get everything right, but in spite of ourselves we invariably end up out on that limb, finding that often the only real salvation comes with a gentle chuckle and a sly, knowing smile. All my pictures seem to conclude that logic, while useful to a point, is by itself a bore. So we might as well have a little fun, even if it's in between some tears."
Burk Uzzle was born in 1938 in Raleigh, North Carolina. He is a former LIFE contract photographer and two-term president of Magnum Photos. His work has been published and exhibited internationally and is represented in many private and museum collections. Now an independent photographer based in Florida, he spends several months of each year traveling and photographing throughout the United States.
Vicki Goldberg, former photography critic for The New York Times, is one of the major voices in the world of photography. She is the author of, among many other works, American Photography: A Century of Images, The Power of Photography: How Photographs Changed Our Lives, and Margaret-Bourke White: A Biography. In 2006 Aperture published Light Matters, a collection of Goldberg's essays spanning twenty-five years. Goldberg writes frequently on photography and the arts for The New York Times, Vanity Fair, American Photo, and other publications.

About the Author
Burk Uzzle was born in 1938 in Raleigh, North Carolina. His photographs have appeared in numerous magazines worldwide, including Life, Newsweek, Fortune, and the New York Times Magazine. His work has been widely exhibited in the United States and Europe, and is represented in many private and museum collections.
Hardcover: 127 pages
Publisher: Five Ties Publishing (November 30, 2007)
Language: English