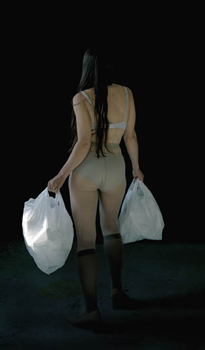 Untitled ", 2006 by Annika von Hausswolff Collection Magasin 3 Stockholm Konsthall
Expositions du 9/2/2008 au 9/6/2008 Terminé
Magasin 3 Stockholm Konsthall Frihamnen SE -115 Stockholm Suède This spring Magasin 3 Stockholm Konsthall has the great pleasure of showing a wide selection of work by Annika von Hausswolff, an artist whom Magasin 3 has supported for many years.

Contradictory feelings of unease and curiosity evoked by her macabre stories and glimpses of the unexpected in the everyday have been characteristic of von Hausswolff's work since the 1990's. In her carefully composed photographs the human body is often physically present or tangible in the traces left behind: naked, abandoned bodies in picturesque landscapes, covered, lifeless bodies, children with chainsaws, or the reminders of human presence in the form of dust bunnies, empty chairs and discarded shirts. Using well-known motifs and art historical references Annika von Hausswolff's work exists on the border between the documentary and the staged. In the last few years her world of images has increasingly taken physical shape in the exhibition space through the use of objects
and props.

This exhibition includes over 50 of von Hausswolff's works, all from Magasin 3's collection, as well as a large-scale installation specially created for the space.

Artist's book:
During the spring a comprehensive publication on Annika von Hausswolff will be produced for which the artist will personally document the exhibition at Magasin 3. The book will also include a catalogue raisonné section comprehensively listing and illustrating all of von Hausswolff's work to date.