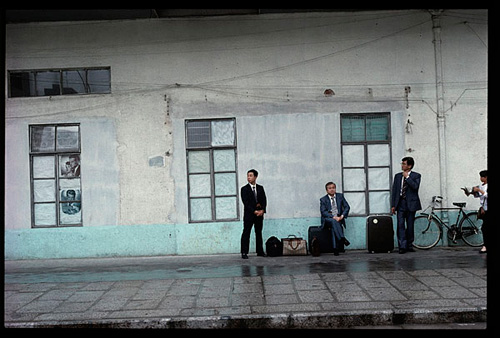 Robert van der Hilst: "Shanghai: 1990-1993/Waiting For the Bus" (1991),
Expositions du 16/2/2008 au 21/3/2008 Terminé
m97 Gallery No. 97 Moganshan Road 2F 200060 Shanghai Chine m97 Gallery is pleased to announce "Shanghai: 1990-1993," a solo photography exhibition by Dutch photographer Robert van der Hilst. The exhibition runs from February 16 to March 21, 2008, and m97 Gallery will hold an opening reception for the artist on Saturday February 16th from 5pm to 8pm.

Robert van der Hilst's color Kodachrome photographs from "Shanghai: 1990-1993" captures the early roots of this large metropolis as it readies itself for the great thrust forward towards modernization. Bringing a strong sense of color and composition to his work in the streets of Shanghai, Robert's work, now viewed some 18 years later, brings a sense of historical reflection after the past two decades of breakneck development in China's financial capital. His subjects and sceneries are at once both familiar and foreign to the viewer. The subtleties and textures of the photographs, as well as the overall appearance of the city and its people are captured by the Dutch photographer as he first encounters a city poised on the edge of a newfound greatness. First traveling to Shanghai in 1990 on assignment for Vogue Magazine to feature a reportage of the city, Robert became fascinated by his first encounter with China and later made a total of seven trips to Shanghai in the course of three years.

Robert van der Hilst lives in Shanghai and Paris, and is currently working on a large-scale photography project titled "Chinese Interiors". He has worked as a photographer in Europe, South Africa and North America and his monograph "The Cubans" was published in 2001. Robert van der Hilst's 64-page full color "Shanghai: 1990-1993" book published by m97 Gallery to accompany the exhibition is available for purchase in the gallery or online (15 Euros + shipping).