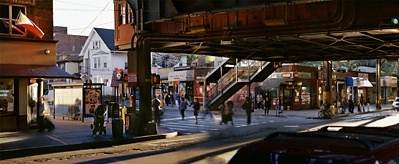 Expositions du 08/03/2008 au 20/04/2008 Terminé
Houston Center for Photography 1441 West Alabama TX 77006 Houston États-Unis Four of the earliest major civilizations were formed in river valleys. The fertile lands provided surpluses of food that allowed for the growth of populations, development of cities, and thus civilizations were created.
Though we now live in an industrial and technological era, where the survival of our existence no longer simply depends on the availability of food, the pattern of our quest for living space still resembles that of the ancient river valley civilizations. Such is the premise of the 7 Train, the seven-mile-long subway line that connects New York City´s Times Square with seven communities in northwest Queens, the most ethnically diverse county in the country.
On a smaller but equally complex scale, some of the distinctive characteristics of a civilization — an intricate and highly organized society with the development of elaborate forms of economic exchange, as well as the establishment of sophisticated, formal social institutions such as organized religion, education, and the arts — are evident in the communities that have developed along the tracks of the 7 Train.
While I´ve been living along these tracks for years, I am still constantly awed by the complexity of the communities formed alongside it as well as the harmony so many people of distinct backgrounds are able to live in. I set out to photograph the ´habitat´ of the 7 Train as I came to see it, with a focus on not the individual but the people as a whole, as well as their relationship with their environment.
-Jeff Chien-Hsing Liao