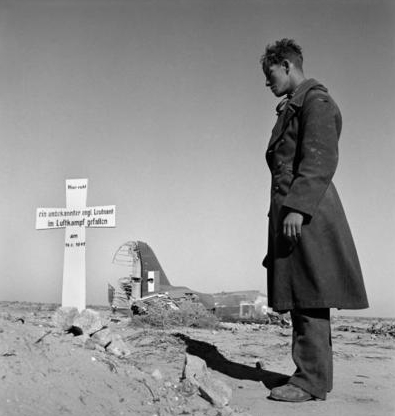 Expositions du 09/02/2008 au 27/04/2008 Terminé
Imperial War Museum North The Quays Trafford Wharf Trafford Park M17 1TZ Manchester Royaume-Uni To celebrate the centenary of George Rodger's birth in Hale, Cheshire, Imperial War Museum North presents a major photographic exhibition of the life and wartime work of this extraordinary photographer who, with Henri Cartier-Bresson, Robert Capa and David Seymour, founded the legendary Magnum Photos.
Contact paints an intimate portrait of Rodger through his photographs, complemented by film, personal items and interviews with veterans and Rodger's widow, Jinx. The exhibition illustrates how war shaped the career of one of the most interesting figures in twentieth century photography.
The exhibition examines the evolving role of photographers in the 1930s, and explores Rodger's compelling imagery from most of the major fronts of the Second World War, including the London Blitz, the liberation in Europe and the horrors of Belsen concentration camp.
After the harrowing events George Rodger witnessed during his incredible journeys he vowed to abandon war photography altogether and in 1947 co-founded the now legendary Magnum Photos. However he could not escape the conflicts of the post war era entirely, as his poignant and powerful coverage of Palestinian refugees and the Mau Mau in Kenya illustrates.
A large selection of George Rodger's photographs are on display as prints, lightboxes, and banners, all in the dramatic and unique setting of the Special Exhibitions Gallery at Imperial War Museum North.