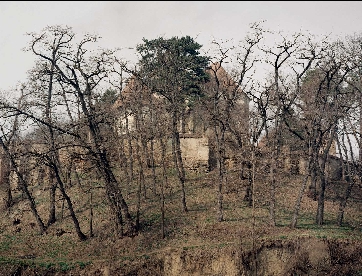 Clare Richardson spent a large part of her formative years living a peripatetic existence, moving from country to country as her father's military career demanded. It is perhaps this sense of her own cultural impermanence that has led to a fascination for small 'close-knit' communities which are firmly rooted in tradition and which exude an aura of communal certainty. A formative and evocative body of photographic work, Harlemville, centres on the children of a remote community in North America, inspired by the philosophical writings of the radical educationalist, Rudolf Steiner. With their quiet, formal clarity, her images evoke a nostalgic sense of innocence, and the town and its youthful inhabitants appear utopian in their optimism.
In her most recent photographic adventure, Beyond the Forest, Richardson has traveled to Transylvania – a region rich in folklore and tradition – seeking out a small farming community, whose people are believed to be the descendants of the children bedeviled by the Pied Piper of Hamelin. The exquisite pictures, fluctuating lyrically between formal portraiture and landscape studies, punctuated with astute documentary moments, capture the very essence of this indelible and disturbing fairytale. Set against the tranquility of a mediaeval landscape redolent of a pre-industrial, pre-enclosure Europe, Richardson's quiet and pictorially rich studies evoke a sense of place underscored with a deeply compelling narrative that renders it almost impossible to distinguish between our own recollections of fables and the very real mise en scènes evolving in front of our eyes.
Clare Richardson was born in London in 1973 and now lives and works in Carmarthenshire, West Wales. Her work has been exhibited at the Victoria & Albert Museum, London and featured in Regarding Landscape, a major touring exhibition in Canada. Harlemville, 2003 and Beyond the Forest, 2007 have both been published by Steidl as limited-edition hardback monographs.