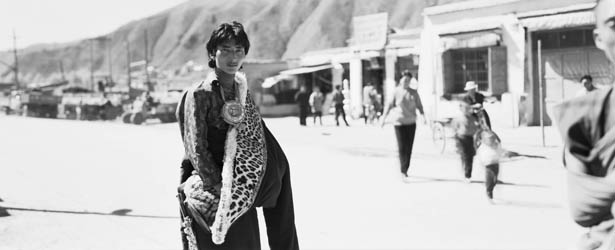 Expositions du 01/11/2007 au 30/11/2007 Terminé
Rossi and Rossi 16 Clifford Street Web site: www.rossirossi.com W1S 3RG London Rossi & Rossi's showing of the extraordinary panoramic photographs by one of the most important and influential photographers of late 20th century Asia will be a major contribution to the 10th anniversary celebrations of Asian Art in London, which takes place from 1 to 10 November. This highly successful enterprise draws collectors and scholars from around the world to the many exhibitions and other events held by dealers, auction houses, museums and important institutions in London.
Lois Conner
is an outstanding landscape photographer who has spent much of the last quarter of a century working in Asia, particularly China and Vietnam. She was born in 1951 in New York and received an MFA in photography from Yale University in 1981. In 1982 she began to work in an elongated format, using a panoramic or 'banquet' camera (first used at the turn of the 19th/20th century for group portraits), inspired in part by Ming dynasty paintings she had studied while in graduate school. In 1984, with a Guggenheim Fellowship, she spent nine months in China and since then has returned to work there annually, most often for months at a time. Since the 1990s, Conner has drawn her inspiration from the gradual yet profound changes in the physicality of the cities and countryside which have occurred since the adoption of a market economy. The panoramic form allows her to extend the sweep of narrative in her images and to embrace more than one moment concurrently. She uses photography to reinvent a sense of the world through landscape, of landscape as culture. Conner began taking photographs in Tibet in 1986, while her Lotus project was started in 1995. Both are ongoing. Together they conjure up a world that is fragile and fluid, dynamic and profound; a world that has seen irrevocable change yet remains infused with tradition. The title of the present exhibition Twirling the Lotus comes from a well-known Buddhist sutra indicating a moment of enlightenment or understanding of the meaning of life. The photographs on show include a number of her tranquil studies of the lotus plant in a wide variety of forms, taken at different seasons and times of the day. They are evocative visual meditations. Alongside these subtle images of the lotus will be studies of landscape, street scenes and portraits, temples, monasteries and sculptures from China and Tibet, a remarkable testament to the sensitive eye and unique vision of this distinctive photographer.
Lois Conner
's work has been widely exhibited internationally and is represented in many public collections including the British Library and the Victoria and Albert Museum in London, many museums in the USA including the Museum of Modern Art and the Metropolitan Museum of Art in New York and the Smithsonian Museum of American Art in Washington, as well as the Australian National Gallery and National Gallery of Victoria in Australia. Twirling the Lotus offers an exciting opportunity for collectors to acquire a work that transcends photography to become a timeless and meditative work of art.