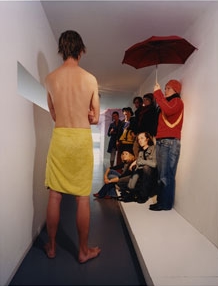 Expositions du 22/07/2007 au 02/09/2007 Terminé


Opening and book presentation: Saturday July 21st, 5 PM in the presence of photographer Thomas Kellner. Meindert Talma plays Tamango, a blues he wrote during his stay at the Wall House. Exhibition and book At the invitation of Noorderlicht and the Wall House #2 Foundation eight photographers resided in the Wall House. This world famous building by architect John Hejduk remained a daring paper concept for decades until it was finally realized in Groningen in 2001. In the photography project 'Thought provoking, sense provoking' the photographers processed their ideas and experiences into eight series that collectively engage in a highly creative game with architecture and photography. Participating photographers: Wijnanda Deroo (Netherlands/US), Beth Yarnelle Edwards (US),
Isabelle Hayeur
(Canada),
Bill Jacobson
(US), Thomas Kellner (Germany), Anoek Steketee (Netherlands), Mitra Tabrizian (Iran/UK) and
Danwen Xing
(China). On Sunday July 22nd architecture connoisseur Olof van de Wal will conduct a free tour through the Wall House. Especially on this occasion the tour and the admission for Wall House are free. Afterwards there is the opportunity to visit the exhibition in the Noorderlicht Photogallery. Architecture connoisseur Van de Wal is director of the KEI (information centre urban renewal) in Rotterdam. Before that he was curator at the NAi (Dutch Architecture institute) and director and initiator (2003-2007) of Platform GRAS and the Wall House #2 Foundation. Het also founded the international Young European Architects network. Tour: Sunday July 22, start at 12 o'clock Location: Wall House #2, A.J. Lutulistraat 17 (at the Hoornse Meer), Groningen Reservations are not obliged but will be valued via info@noorderlicht.com Photos on the wall From July 21rst the Wall House itself will present part of the exhibition Thought provoking, sense provoking in the open air. Large photos will be hung on both sides of the gigantic wall.