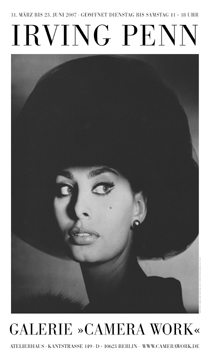 Expositions du 31/03/2007 au 23/06/2007 Terminé
Camera Work Gallery Kantstraße 149 10623 Berlin Allemagne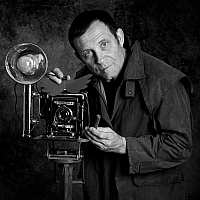 Born in New Jersey, USA, in 1917,
Irving Penn
is one the most influential photographers of the 20th century. His work embraces photographic genres such as fashion, portrait, nude, ethnographic studies, and still-life photography. Despite the great variety of subjects, all of Penn's photographs are characterized by great unity and clarity. Penn has a tremendous sense for details. While seemingly switching from photojournalist to artist and back, he creates works of timeless beauty and noble character. In the course of the years,
Irving Penn
has worked on the subject of portrait photography in many different ways. Dating back to the 1940s he was one of the first to pose his subjects against a simple grey or white backdrop. Penn also constructed a set of upright backdrops that formed a stark and acute angle. Posing his subjects within this tight, unorthodox space, Penn brought an unprecedented sense of drama to his photos, the subjects appeared wedged into the corner. Thus Penn wanted to put his famous models onto the same level as himself, the young and unknown photographer. As can be seen in the exhibition, the subjects of the photographs reacted in very different ways. Some were using the backdrop to their own advantage. As an example, Igor Strawinsky uses his body language to fill the empty space between him and the background, whereas Truman Capote leans against the wall while kneeling on a chair. In addition to these photographs we are also showing the extremely appealing portraits of Marlene Dietrich und Jean Cocteau which were also taken during this period. Later on in the 1950s, Penn developed a liking for capturing the finest details of his subjects such as the ornaments on Pablo Picasso's collar or the facial wrinkles of the French actor and producer Louis Jouvets. A change in lighting is clearly visible in Penn's portraits of the 1970s and 1980s. Furthermore, he gave them a new expression and mood by slight manipulation.
Irving Penn
is also famous for his simple but striking fashion photography. Like his colleague
Richard Avedon
, Penn abandoned lush arrangements in the studios in order to let the model itself come to the fore. In addition he worked in daylight studios and used an emphasizing but non-contrasting backdrop. When he was asked to photograph Vogue's autumn fashion show in the 1950s, he was not yet very experienced in fashion photography. For the shooting Penn decided to work with natural light as is typical for him. As a location he rented the 7th floor of an old photography school whose dusty skylights created a romantic atmosphere. For decades,
Irving Penn
, with his photo series -mainly for Vogue- formed the ideal image of beauties and fashion. Just as the aesthetic aspect, displaying the human side of his models has always been equally important to him. We are proud to show several icons in our exhibition such as "Corset" of Christian LaCroix, "Woman with Roses," and "Café in Lima."
Irving Penn
's photographs and documentaries about unknown nations, which he has been producing since the 1940s, form a stark contrast to the glamorous world of fashion photography. Thus he was a village photographer for a few days in Cuzco, Peru, where he took pictures of family and children of the Quechua tribe. In New Guinea he photographed "Mud Men", hippie families in San Francisco and African beauties in Dahomey, today's Benin. Furthermore,
Irving Penn
has shown a keen interest in still-life photography from the beginning. From 1934 to 1938 he studied design at the Philadelphia Museum School for Industrial Art under the supervision of Alexej Brodowitch who later on made Penn the assistant illustrator and art designer for Harpers Bazaar. In 1940
Irving Penn
started to work for Vogue under the charge of Art Director Alexander Liebermann. Although he was actually only responsible for the design of the cover page, he photographed his first cover – a still-life – in 1943. In the 1970s he used Memento Mori objects as well as garbage such as cigarette butts, rotten fruit, and old clothes to photograph them in the same way as traditional beauty. In these objects of daily life he discovered the aesthetic side of ugliness. These newly discovered and monumentalized objects thus became modern still-lives.