Expositions du 08/03/2007 au 01/04/2007 Terminé
Brancolini Grimaldi Via dei Tre Orologi, 6/A 00197 Roma Italie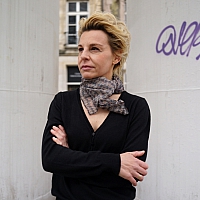 Brancolini Grimaldi is pleased to present the first solo exhibition of
Valérie Belin
in Italy. Retrospective in nature, the exhibition contains eight series of her most recent photographs, including "Safes", "Chips", and "Black Women".
Valérie Belin
photographs objects including glasses, silver, masks, mirrors, and meat. The seeming randomness of the items which interest the French photographer are as deceptive as the images themselves. Belin's photographs are an experiment in ambiguity. They are hyper realistic to the point of disbelief. They are orderly in their chaos. They are objective with underlying intentions. And they are united by the paradoxical concepts which form them, inciting questions about the living, its representation, and everything in between. As curator Régis Durand wrote, "what emerges [in Belin's photographs] is the idea of a double movement: on the one hand, an obsessive search, a desire, as the artist writes, to 'get to the heart of things' and, on the other hand, to make incertitude, latent mutations or metamorphoses at work actually appear while celebrating them." Untitled 2006, from the series "Black Women" The various series included in the exhibition are unified by Belin's signature close-up compositions, with deep blacks and stark whites uniting in high contrast gelatin silver prints. The exhibition also features one series of color photographs, "Black Women". In 2004
Valérie Belin
was shortlisted for the prestigious Marcel Duchamp prize, and in 1997 was awarded the Paris Photo prize. Her photographs can be found in several of the most important international collections, including The Museum of Modern Art in New York, the Centre Georges Pompidou, Paris, and the Fondation Cartier pour L'Art Contemporain, Paris. Upcoming exhibitions of Belin's work during 2007-2008 will be held the Musée de l'Elysée in Lausanne, Switzerland, the Maison Européenne de la Photographie in Paris, France, and at the Huis Marseille in Amsterdam, Netherlands. Belin's photographs will also be exhibited at several international art fairs including LA Art in New York, Photo London, and Art DC. The artist lives and works in Paris.