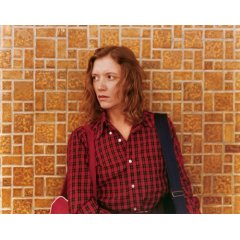 Brought to you by the publishers of
Rineke Dijkstra
: Beach Portraits and Chicago Photographs, One of a Kind features 48 magnificently reproduced portraits from some of the greatest image-makers in the history of modern photography. Culled from the renowned archives of Chicago's LaSalle Bank, One of a Kind begins inside the studio, with work by such greats as
Edward Weston
,
Richard Avedon
and Julia Margaret Cameron. Outside of the studio, there are energetic and sometimes lonely street scenes by
William Klein
,
Rineke Dijkstra
and
Gordon Parks
. Next, there are intimate family photographs by Roy DeCarava, Larry Sultan, Tina Barney and
Thomas Struth
. Other artists include:
August Sande
r,
Walker Evans
,
Mike Disfarmer
,
Cindy Sherman
, Meridel Rubenstein, David Hilliard, Carrie Mae Weems,
Diane Arbus
,
Stephen Shore
, David Hockney, Dawoud Bey,
Philip-Lorca diCorcia
,
Henri Cartier-Bresson
, Manuel Alvarez Bravo, Edward Steichen,
Man Ray
and Seydou Keita. About the Author
Richard Avedon
is the best-known and most influential fashion photographer in history. He was born in New York in 1923, and after studying photography at the New School during the late 1940s, he spent 20 years as a photographer for Harper's Bazaar, creating many signature images that remain recognizable to this day. He also worked for Vogue and contributed photographs to publications such as Look and Life. Avedon died in 2004 after recent exhibitions at the The Metropolitan Museum of Art, New York and the Fraenkel Gallery, San Fransico. The
Richard Avedon
Foundation was established in 2005. "More than any other artist,
Walker Evans
(1903-1975) invented the image of essential America that we have long since accepted as fact. Evans did most of his best work in the 1930s, and his pictures have been celebrated as documents of the Great Depression. But his concerns ranged far beyond the troubles of the 1930s, and his work has made its impact not only on photography but also on modern literature, film and the traditional visual arts."
Cindy Sherman
was born in 1954. She began her Film Stills series at the age of 23, gaining early recognition, and has followed it with remarkable experiments in color photography. Her art has won her wide recognition and praise, and been collected and exhibited by major museums throughout the world since 1980--key early shows included a first survey at the Stedelijk Museum, Amsterdam, in 1982 and a retrospective at the Whitney Museum of American Art in 1987. MoMA purchased a complete set of Film Stills for one million dollars, and Sherman's first feature film, Office Killer, was released in theaters. Sherman is the recipient of a MacArthur Foundation "genius" award, a John Simon Guggenheim Memorial Fellowship, and the Guild Hall Academy of the Arts Lifetime Achievement Award for Visual Arts.
Edward Weston
was born in 1886 in Highland Park, Illinois, outside of Chicago. One of photography's most widely exhibited and collected photographers, he began his career as a door-to-door portrait photographer in California in 1906. After having lived in Mexico City in the early 20s, where he ran a studio with apprentice and lover
Tina Modotti
, he returned to California permanently and began the work for which he is most famous: natural form close-ups, nudes and landscapes. Weston died in 1958 in Carmel. Dawoud Bey is an artist and professor of photography at Columbia College, Chicago. He has exhibited internationally, and his writings have appeared in numerous publications, including Third Text, C: International Contemporary Art and Afterimage. Hardcover: 120 pages Publisher: LaSalle Bank, N.A. (March 1, 2007) Language: English
Réagissez à cet article