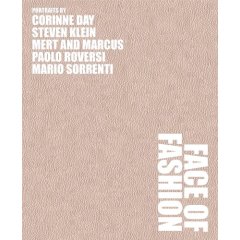 Any fashion photographer can make a flattering portrait, but the contemporary masters featured in Face of Fashion don't even try. This striking, gold-embossed, faux-leather-bound volume presents the intensely unconventional, often unnervingly intimate portraiture being made by some of today's most creative and original fashion photographers--including Corinne Day,
Steven Klein
,
Paolo Roversi
, Mario Sorrenti and the team of Mert Alas and Marcus Piggott. Each photographer is represented by a range of portraits, including several commissioned especially for this book. Some of the portraits were produced for ads; others were commissioned for editorial features. Many of the subjects are celebrities, including Kate Moss, Madonna,
Matthew Barney
, Brad Pitt, Angelina Jolie and Sting. Others are completely anonymous. Essays by Susan Bright and Vince Aletti illuminate the collaborative nature of this radically new approach to portraiture, as well as how it diverges from earlier work by masters like
Cecil Beaton
,
Irving Penn
,
Richard Avedon
and others. In addition, interviews and candid descriptions of the process by the photographers and subjects themselves provide rare insight into the potent mix of fame, fashion and photography on view here. Published to accompany an exhibition at London's celebrated National Portrait Gallery. About the Author Corinne Day has been working as a photographer since the early 1990is. Her photographs have appeared in such magazines as The Face, Raygun, Dazed and Confused, Penthouse, and international editions of Vogue. Her work has also entered the mainstream art world, and is represented in the collections of such institutions as the
Andy Warhol
Museum and the Victoria and Albert Museum in London. She is a former model and self-taught photographer whose shooting style in the 1990s became internationally known as "grunge." She lives in London.
Steven Klein
has collaborated on portraits with Madonna, Brad Pitt, Angelina Jolie, Tom Ford, and others that have appeared in magazines such as W, Arena Homme Plus, and Italian, American, and L'Uomo Vogue.
Paolo Roversi
was born in 1947 in Italy. He currently lives in Paris, photographs for Harper's Bazaar, and has led numerous publicity campaigns for such illustrious clients as Christian Dior, Cerruti, Valentino, Yves Saint-Laurent, and Comme des Garcons. His preference for shooting in the studio, using an 8-by-10-inch Polaroid, results in portraits that reveal an acute understanding of the history of photography. Mario Sorrenti, Italian-born and New York-raised, is a self-taught photographer and former model who has created campaigns for leading fashion houses such as Dolce and Gabbana, Missoni, and Nicole Farhi. Vince Aletti writes about photography for Aperture magazine, Modern Painters, the New Yorker, and Photograph. He is the recipient of the 2005 Infinity Award for writing from the International Center of Photography. Susan Bright is an independent writer, lecturer and curator. Formerly Curator of Photographs at the National Portrait Gallery in London, she is currently the Acting Director of the MA program in Contemporary Art at Sotheby's Institute in London, and a course leader at the Tate Modern. She is the author of the recent bestseller, Art Photography Now. Mert Alas and Marcus Piggott, based in London, have had a creative partnership since the late 1990s. After their first big break with Visionaire, they have become known for advertising and editorial work for magazines such as Pop, W, and Vogue. Hardcover: 232 pages Publisher: Aperture (March 1, 2007) Language: English