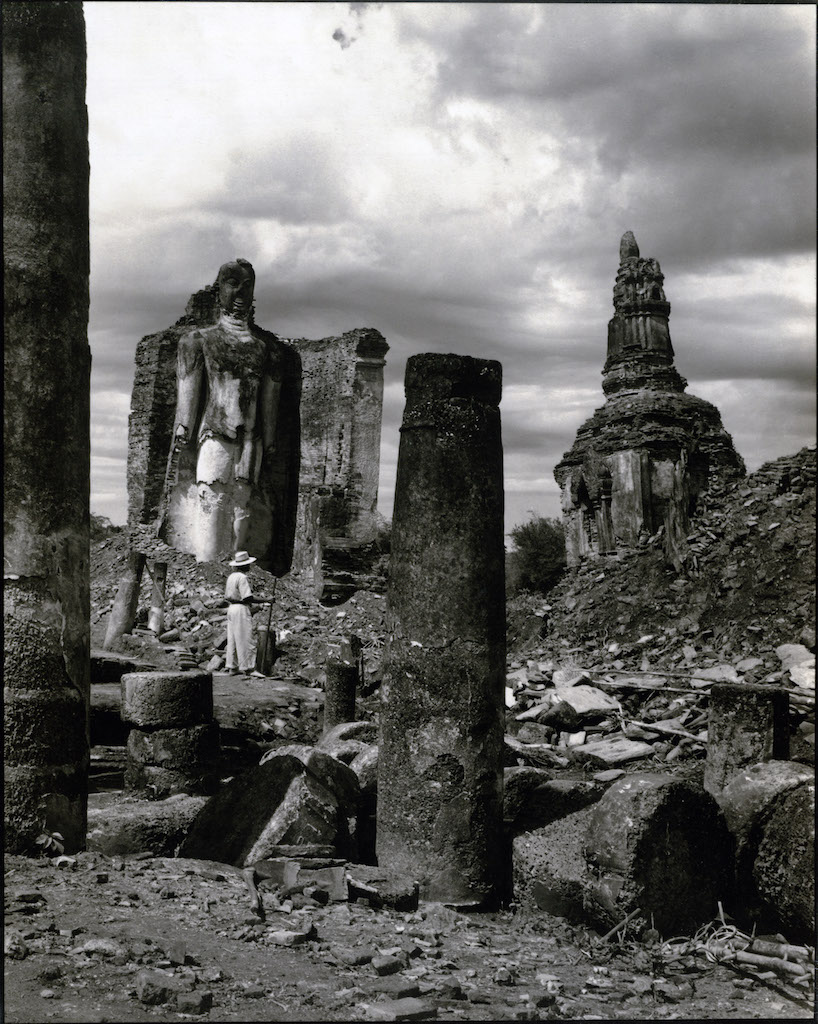 WAT MAHADHATU, SUKHODAYA © Rabil Bunnag
Expositions du 8/7/2017 au 26/8/2017 Terminé
Kathmandu Photo Gallery 87 Pan road 10500 Bangkok Thaïlande Press Release -
After seeing this set of black & white photographs of the ancient ruined cities of Sukhothai, Si Satchanalai and Kamphaeng Phet as recorded by Rabil Bunnag in 1953, the question inevitably arises: "The magic of the ancient spiritual aura that once haunted these old sacred sites, where has it all gone? Why hasn't it survived the process of modern restoration?"
In Rabil's atmospheric images, the Buddha statues and pagodas are overgrown with creepers, evoking romantic adventures through mysterious mythic lands; with exquisite patience and meticulousness, he captured the optimum play of light and shadow to bring out their potent beauty.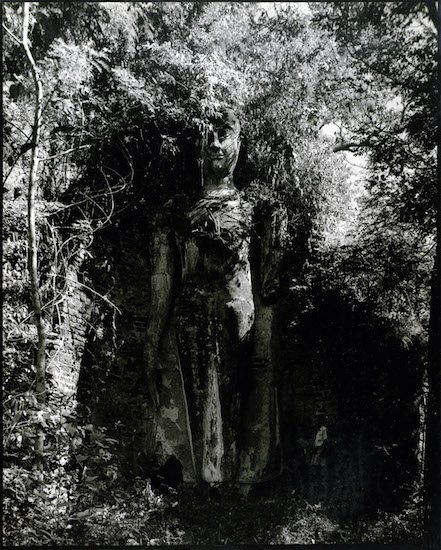 STANDING IMAGE OF THE BUDDHA, WAT SI IRIYAPATHA, GAMPENG PET © Rabil Bunnag
"These photographs are most valuable for study, as they were taken before restoration, so any interested party could use them for comparison, to see how they differ from today's reality…" So wrote Buddhadasa Bhikku in the foreword to the book 'Three Old Cities of Siam' (pub. Thai Wattana T Sawan Foundation for the Dhamma Dana Foundation, 1971), a compilation of this set of photographs, printe almost 20 years after the photos were made.
How fortunate for posterity that Rabil donated over 100 photographs from this series to Suan Mokkh Monastery in Chaiya, Surat Thani; now the Buddhadasa Indapanno Archives has brought them to Bangkok for preservation and distribution to the public.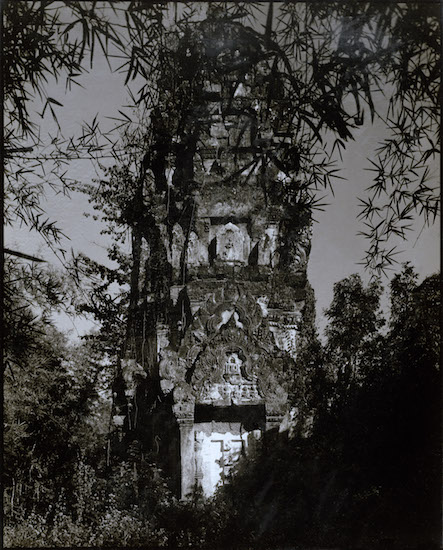 KHMER SANCTUARY TOWER, WAT PRA PAI LUANG, SUKHODAYA © Rabil Bunnag
Rabil Bunnag
(born in Bangkok 1902 – 1999) finished his studies in Singapore at age 21 & returned home to work for the Botanical Division of the Forestry Department. This enabled him to travel extensively on forest inspection tours all over the country's forests. Coming upon strange, beautiful flowers, he was inspired to photograph them for study, leading him deeper into photography. After 1937 Rabil left government service to set up the 'R. Bunnag' photography studio on Silom road. He later became a lecturer in Pictorial Photography at Bangkok Technical College. Before passing away at the age of 97, Rabil donated some 23,000 photographs of ancient sites and objects to the National Archive.