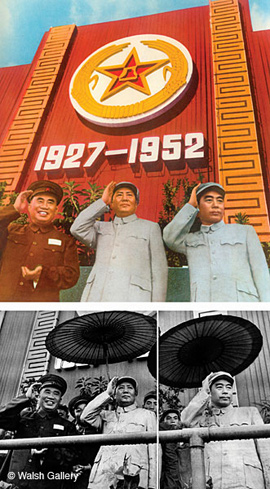 Expositions du 09/06/2006 au 14/07/2006 Terminé

Walsh Gallery 118 North Peoria, 2nd Floor Chicago, IL 60607 T: +1-312.829.3312 F: +1-312.829.3316 info@walshgallery.com www.walshgallery.com/exhibitions.html Tues - Saturday, 10:30 to 6:30


In the past 60 years in China, photos both famous and ordinary have been manipulated. Ninety examples of these paired doctorings will be on view in "A Second History." Zhang Dali's latest work and commercial debut in the states is curated by Wu Hung. The show opens June 9, with an opening reception from 5 to 9 pm. Both the artist and curator will be present. As Beijing-based Zhang Dali says, "people will naturally fix what they consider ugly, and touch those objects that are visible to them." This is the premise behind the photo pairings, which show how photography was used as a tool to manipulate the perceived needs of the masses from that particular era. These photos represent a critical part of Chinese history; as Zhang Dali says "they have guided our lives, studies, work, and family values." The show consists of vibrant examples of artistic censorship, used explicitly for political motives, as well as commonplace examples of photo enhancement made during the same era. These doctored photos make up this "second history." As curator Wu Hung says, "the doctored images not only help reconstruct historical events and images of state heroes, but also lay a foundation for comprehending the world and the idea of the people." The act of taking this "before" source material and the "after" doctored material and making this a work of art is a challenging one. Zhang Dali is an exceptional photographer best known for his graffiti work in which he made 2,000 graffiti profiles in Beijing (especially in buildings that were in the process of being demolished) and shot photos of this work. Zhang Dali's work has been exhibited extensively in Europe and China. The first installment of this project, "Sublimation," was presented last year in a solo exhibition at Beijing Commune in China. His work has been shown in the 2002 Guangzhou Triennial, ARCO 2002, and "Between Past and Future: New Photography and Video from China" which began at the Asia Society and the International Center for Photography (New York) and traveled to Chicago, London's Victoria & Albert Museum, and other cities. He has been included in many other major exhibitions around the world, including "China Art Now" (Singapore Art Museum), "Contemporary Chinese Photography" (Finland Museum of Photography, Helsinki), "Hot Pot" (Kunstnernes Hus, Oslo), "Beijing in London" (ICA), and "Fuck Off" (Eastlink Gallery, Shanghai). Wu Hung is Professor and Director, Center for the Art of East Asia, at the University of Chicao. He is chief curator of the Gwangju Bienniale 2006, where this photo series will be presented this fall, and curator of "Between Past and Future: New Photography and Video from China." He is a frequent curator of Walsh Gallery shows.