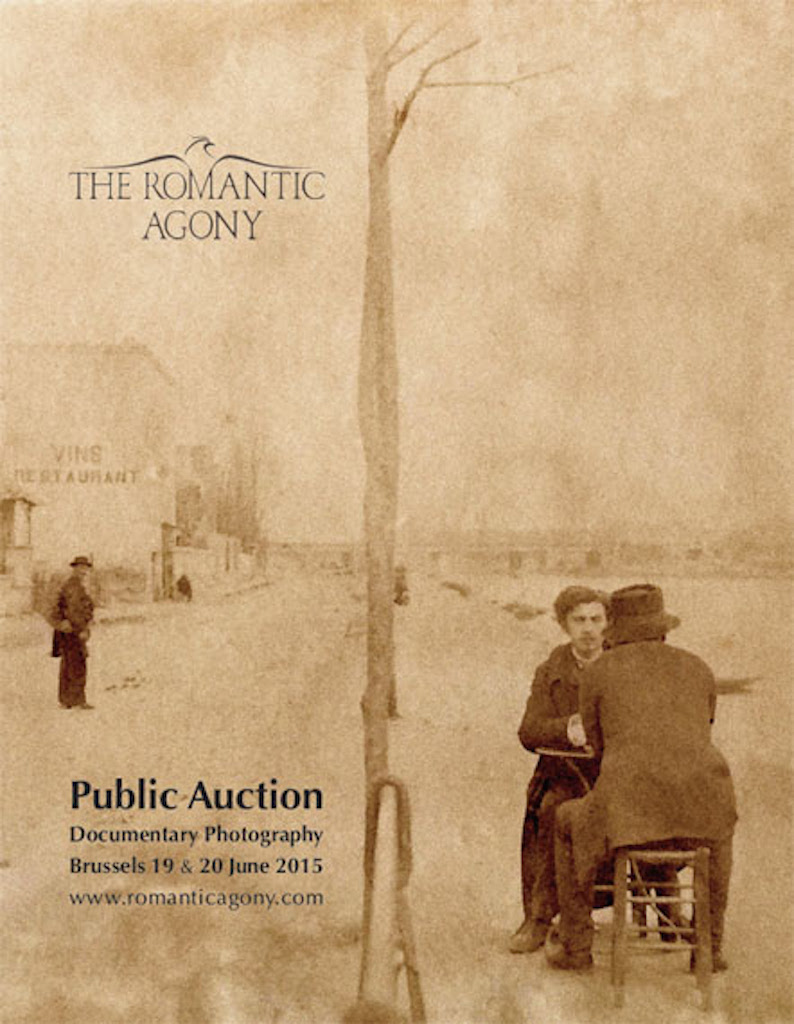 © romanticagony.com
Ventes du 19/6/2015 au 20/6/2015 Terminé
The Romantic Agony Aquaducstraat rue de l'Aqueduc 40, 1060 Brussels Belgique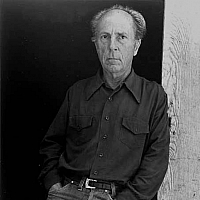 Auction 56: Documentary Photography

19 June 2015 | 2pm | Lots 001-266
20 June 2015 | 2pm | Lots 267-800
Viewing: 12 – 18 June 2015, 10 am – 6 pm
Catalogue online: http://www.romanticagony.com/en/catalogue/detail/98"
Expert: Serge Plantureux | serge@plantureux.fr | +33 (0)650856074
Online auction with http://www.romanticagony.com/en/catalogue/detail/98"
From all Europe and overseas, The Romantic Agony received little-known photographic material unearthed from sleeping book-shelves, dog-houses, attics and basements. And a few gems from André Jammes collection, very nice group of photographs of Paris and Paris Commune from Jean-Pierre Faur Collection (A Paris Bibliophile).
The pleasure of investigation, combined with some rigorous material analysis was during three months our daily experience, in Brussels and Montreuil, were five future art market specialists in professional training (Drouot Formation) joined the laboratory to prepare this catalogue, selecting the photographs as tangible objects that rewarded aesthetic contemplation through their young eyes. Prints which could not be understood nor precisely described about authenticity or period of printing were not included.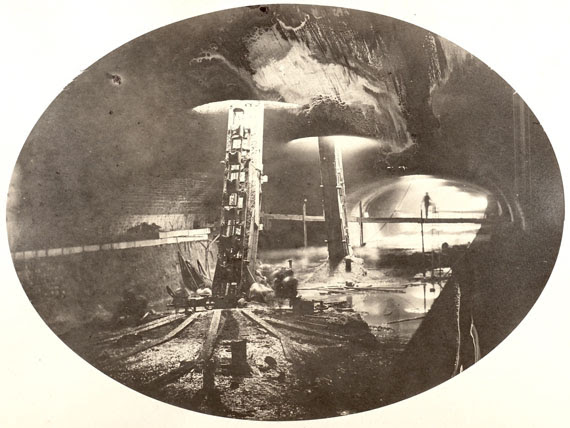 © François Gobinet de Villechole dit Franck (1816-1906)
Journey to the Center of Paris, 1860
Eight large albumen prints cropped in tondos, 190 x 250 mm, publisher's binding Provenance: collection Jean-Pierre Faur
(8) € 3.000/4.000
The Friday 19 June catalogue presents a selection of 267 photographs in chronological order, questioning if, when Photography was practiced in a continuous present, it was either nourished or encumbered by a living past. The editing of the catalogue as a Picture book with piquant juxtapositions was in that sense a prominent critical tool*.
The Saturday 20 june catalogue describes 533 lots organized by place of origin, without distinction about the photography's myriad vernacular applications.
A total of 800 lots with more than six thousand documentary photographs which can interest libraries, museums, private collectors, seniors and also junior amateurs.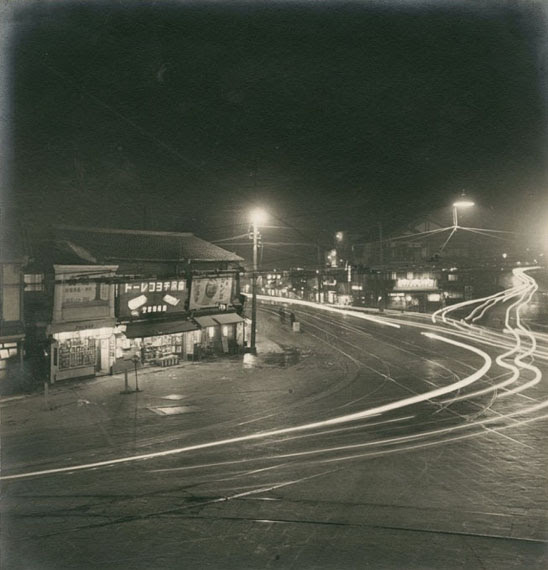 © Lot 229, GONZALO ARIZA
Long Exposure, Tokyo by Night, 1937
Vintage silver print, 256 x 233 mm, provenance annotation, verso
€ 2.000/2.500
"
The key here is the twin conviction that photography has an epicenter and that the conventional tools of art history aren't of much use in locating it. At the core of this double intutition was a recognition of the photographic alchemy that animates the book Evidence. Even the most ordinary, unembellished camera records – perhaps especially those guileless, authorless images, pure products of uniflected camera vision – embody the medium's mercurial aesthetic potential. An indication of the sustained vitality of that perception is Michel Frizot's recent exhibition and book, "Every Photograph is an Enigma", which might be described as a sketch for a grammar of the reception of photographs.
"
(Peter Galassi, Pierre de Fenoÿl's Anonymes: Another Look).
Lots include:
A unique series of engraved Mona Lisas, lots 1-9
Fine daguerreotypes including a Fizeau Paris Rooftop and four Bogota portraits from the 1840's, 11-21
Various French calotypes, unusual Paris views from Jean-Pierre Faur collection, including views from Lerebours window, 22-42
Charles Nègre stereo views of Paris banks, 43-47
Baldus, Bisson, Marville, 48-63
Gustave Le Gray, 64-65
A group of Commune de Paris living reportages, 100-108
An exceptional 1872 Panorama of Paris from Albert Gilles collection, 119-120
Galerie contemporaine, 150 gelatin relief matrices from André Jammes, 121
A New York state complete Rogues Gallery, 122
A group of selected 1880's impressionists Platinotypes, by amateur photographer Hippolyte Blancard, 123-134
Two portraits of Vincent Van Gogh, in conversation with Emile Bernard, considered until now the unique portrait of mature Vincent, 135
The new discovered group portrait, showing Van Gogh for first time on a photographic document, 136
Eugène Atget, 147-148
Travel photographs in Russia to Moscow and Samarkand, 156-168
Glass positives, and autochromes from Arthur Grenier, Amateur photographer in Deauville, 172-178
A group of Arnold Genthe portraits, 189-194
Intimate portraits of Hedwig Arnheim, a Bauhaus student, 197-205
An interesting artist proof print of Moses Nappelbaun classical portrait of Lenin, 206
A vintage print of Robert Capa first reportage, Trotsky in Copenhagen, 207
New name : South American photographer Ariza in Tokyo in the 1930's, 217-229
Henri Cartier-Bresson huge print from MOMA exhibition period, 256
A group of Brassaï prints for Michel Braive history of photography books, 259
Cynamics, photos of sounds and music, 260-264
The Romantic Agony plans to organize photography auctions, on a two-days basis, twice a year, every automn and every spring, with the small treasures and finds from all Europe and overseas entrusted to us. Next auction will be December 11-12, 2015.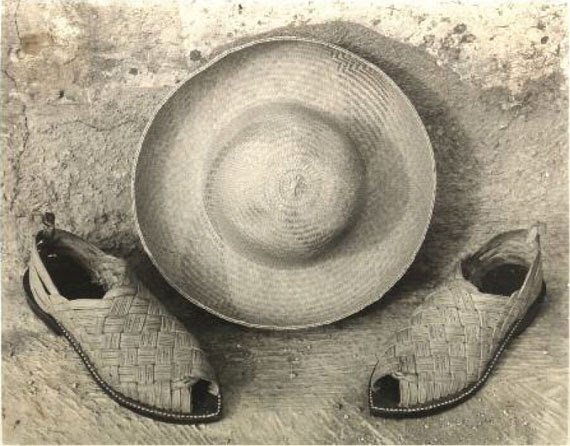 © Lot 734, EDWARD WESTON (1886-1958)
Hat and Shoes, Mexico, 1926
Vintage silver print, 190 x 240 mm, detached from its old mount, unfortunate acid glue marks
€ 600/800
Réagissez à cet article